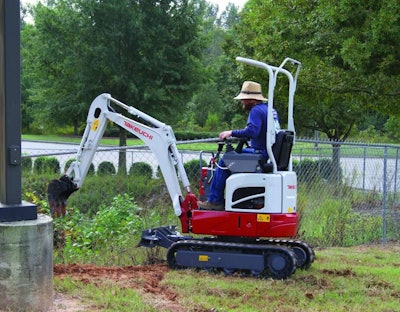 Compact equipment maker Takeuchi-US recently announced the addition of new dealers on the East Coast and in Minnesota.
Full-service dealer Norris Sales Co. Inc., which began operations in 1956, has two locations: its headquarters in Conshohocken, Pennsylvania, and another branch in Sicklerville, New Jersey.
Norris Sales will sell and service Takeuchi equipment in five counties in Pennsylvania, including Philadelphia, offering the entire Takeuchi lineup of excavators, skid steers, track loaders and wheel loaders.
"Norris Sales has been around for many years and has a great footprint in the areas they serve in Pennsylvania," said Kim Robinson, director of sales at Takeuchi-US. "Their staff is incredibly knowledgeable and are very good at supporting their customers. We are looking forward to working with them."
Takeuchi also announced the addition of Minnesota Truck & Tractor Inc. as a new dealer. The company serves Mankato, Minnesota and surrounding areas.
Minnesota Truck & Tractor, like Norris Sales, is a full-service dealer and will sell the entire Takeuchi product lineup.
The Mankato-based company started in 1988 as a truck and trailer repair service. In 2002, Minnesota Truck & Tractor started adding premium lines of equipment. While they offer service and repair on all heavy and light trucks, the company also provides service and parts for diesel trucks, semi-trailers and all types of construction and earthmoving equipment.
Smith Distributing named Wright Distributor of the Year
Wright Manufacturing has recognized Smith Distributing Co. as its 2016 Distributor of the Year. Established in 1983, Smith distributes Wright commercial mowers to independent landscape equipment dealers in Oklahoma, Kansas and Texas.
Hal White, Wright's vice president of sales, presented the award to President Glenn Smith and General Manager Kandis Caldwell.
Wright is Smith Distributing's exclusive mower line, and White noted that this is the second time the Oklahoma City company has been named Distributor of the Year since taking on the line in 2003.
White praised Caldwell, a longtime member of the Smith Distributing team who was promoted to general manager about 18 months ago. He credited her leadership with providing the impetus for the distributorship to win the award.
"Kandis has built a very good management team that has grown the business significantly in a very short period of time," White said.
Wright Manufacturing invented the stand-on mower in 1997 and has expanded the line to include combination sit and stand models, commercial walk-behinds and mid-mount zero turn mowers.