Modine Manufacturing Co., which makes a variety of HVAC products, recently introduced its latest infrared model, the OHP Series Patio Heater.
Unlike traditional outdoor heaters that direct energy toward the air, the Modine OHP Series Patio Heater uses infrared technology to provide warmth to surrounding objects instantly and more evenly, the company says.
"Traditional heaters take time to warm up the air," said Kimberly Raduenz, marketing communications manager for Modine. "This wait time is completely eliminated with our new infrared patio heater, meaning you get instant heat for your outdoor areas with much more efficiency."
The OHP Series Patio Heater connects directly to a gas line, can be ceiling or wall mounted, and comes in either a black-coated aluminized or brushed 430 stainless steel housing.
"Heaters should be an extension of your outdoor area, not an eye sore," said Raduenz. "We wanted to offer an infrared heater that doesn't have to have a bulky propane tank and that can blend in with the environment."
Modine says the unit is easy to install. For more details, visit this page on the company's website.
Milwaukee Tool offers compact vacuum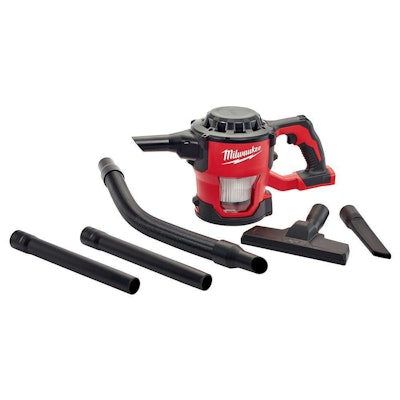 Milwaukee Tool's "M18" System has a new addition: the M18 Compact Vacuum.
The manufacturer calls the M18 Compact Vacuum the most powerful and adaptable handheld cleanup tool in its class. It's equipped with a high-performance motor that provides best-in-class suction for cleanup of materials such as metal shavings and other common shop or jobsite debris.
On one M18 "REDLITHIUM" XC5.0 battery, the compact vacuum has a run-time of 25 minutes. It can run up to 43 minutes with Milwaukee Tool's new M18 REDLITHIUM High Demand 9.0 Battery.
Through use of attachments, trigger lock on feature, and the handheld design, the vacuum can be used in multiple orientations and confined spaces.
Milwaukee Tool says the clear view of the canister, which can be emptied quickly and easily, adds convenience.
The company's new compact vacuum weighs 4.3 pounds. The manufacturer's suggested retail price is $99.