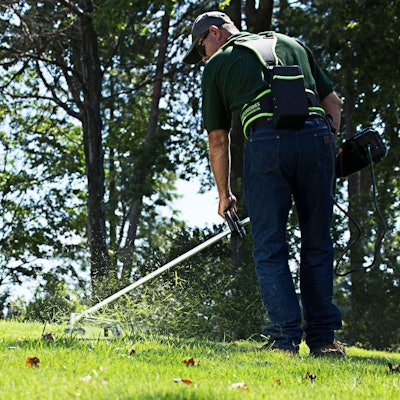 Greenworks is breaking the volt barrier with its new line of 82-volt commercial outdoor power equipment, which made its first appearance at GIE+EXPO last week.
"We were the first to go above 58 volts," said Gray Abercrombie, director of global marketing for Greenworks. "Others said we couldn't, but we did."
The commercial equipment line that Greenworks has produced comes with four main benefits, according to the company. The products are quiet, easy to operate, give off no fumes, and are low maintenance.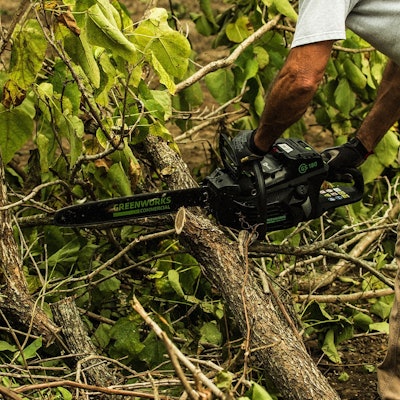 By using lithium-ion batteries, landscapers do not need to worry about the memory effect commonly found with nickel cadmium batteries, where they lose their maximum charge over time if continually recharged.
These battery-powered tools have been designed for those who work in cities with strict decibel ordinances. Most cities with ordinances limit anything above 79 dB and Greenworks' 82-volt brushless axial blower ranges from 60 to 72 dB.
"Commercial landscapers can start earlier and work later with this quieter equipment," Abercrombie said.
The axial blower has a blowing force of about 125 miles per hour while the dedicated axial blower and backpack blower both have a force of 150 mph.
Greenworks' string trimmer produces 50 percent less noise than its gas counterpart while its power is equivalent to a 32cc gas engine, the company says. User fatigue is also reduced by less vibration.
The brushless hedge trimmer comes with a 180-degree rotating rear handle for easy trimming at multiple angles and features a die-cast magnesium gear box to endure heavy use.
All of the battery-powered products feature a trigger to start, removing the need for pull cords. This is especially appreciated with Greenworks' chainsaw.
"Arborists love the saws," Abercrombie said. "All they have to do is push the button to start and safety comes into play a lot with chainsaws."
Greenworks offers a walk-behind mower that is battery-powered as well. It has a 21-inch deck and comes with seven cutting heights that can be adjusted with a lever.
Soon landscapers can expect to see lithium-ion powered ZTR mowers from Greenworks as well. The company debuted prototypes of the machines at GIE+EXPO.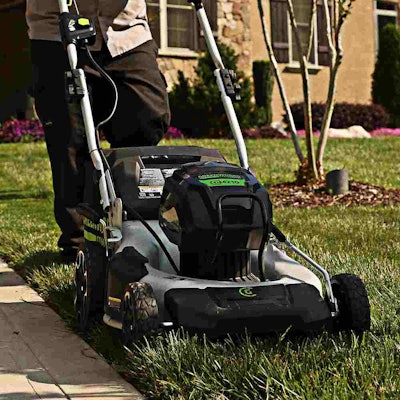 The product run times depend on the amp hour battery used. Products come standard with a 2.5 Ah battery, but they can be upgraded to a 4.0 Ah battery, 5.0 Ah battery or a 900W battery backpack.
All of the Greenworks' tools come with a two-year warranty. Working to expand its dealer network, Greenworks has partnered with SiteOne in order to get its products in front of landscapers.
"That's the future," Abercrombie said. "This technology has gotten to the point where they (landscapers) can take the leap."
Greenworks is also starting a "Landscaper of the Year" program, which the company says is designed to honor landscapers who give back to their communities. Starting in January, one landscaper will be chosen each month. Each monthly winner will receive a complete set of Greenworks' 82-volt equipment. One of the monthly honorees will be chosen to receive an all-expense-paid trip for four to the 2017-2018 College Football National Championship in Atlanta.