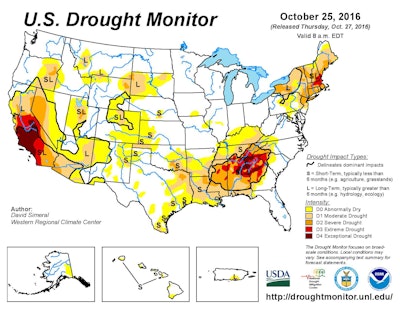 California and New England are in the clutches of a drought and the South is also facing prolonged drought predictions as conditions worsen.
Drought out West is nothing new, but the Southeast hasn't experienced a severe drought since 2007-2008, and meteorologists expect a dry winter if a weak La Nina develops.
While a hot summer isn't anything out of the ordinary in the South, above average temperatures paired with a lack of precipitation have been feeding a drought that has become painfully apparent this fall.
Birmingham, Alabama, received only 0.68 of an inch of rain in September and October combined. Normally, the Birmingham area receives 6.5 inches of rain during that time period, according to the Weather Channel.
In Jackson and Tupelo, Mississippi, both cities report having received only about 12 percent of normal rainfall for September and October.
North Alabama, north Georgia, southeastern Tennessee and western sections of the Carolinas are some of the most affected areas. Much of the entire area is experiencing extreme drought, according to the U.S. Drought Monitor, with significant patches of the broad area labeled as under "exceptional" drought, the most severe classification.
With the extreme drought conditions comes the hazard of wildfires. More than 12,000 acres have burned in Alabama in the past 30 days despite a ban on outdoor fires. Georgia has stopped issuing burn permits in some counties as well.
Water levels have dropped at Weiss Lake, Neely Henry Lake and Logan Martin Lake on the Coosa River, along with Harris and Martin lakes on the Tallapoosa River and Smith Lake on the Black Warrior River. The Haralson County Water Authority noted that the Tallapoosa River had dropped below the intake it uses to provide water to four small towns.
No statewide water use restrictions have been enacted yet, but Atlanta is already prepping for future water shortages by spending $300 million to store 2.4 billion gallons of water, a month's supply, under the city.
Louisiana and Mississippi, where flooding occurred in August, are now experiencing moderate to severe drought conditions as well.
A high pressure system has been lingering over the South throughout much of the summer and so far this fall. La Nina will only exacerbate the problem, as it will push low pressure systems north, causing a drier than average winter for the South and a wetter than normal winter for the North.
According to the Palmer Drought Severity Index, the areas of the Southeast most affected would need anywhere from nine to 15 inches of rainfall over the next four weeks to pull out of the drought.
The trouble is, significant rain is hard to come by in a drought because there is no substantial moisture to draw from the soil or plants.
"The abnormal warmth contributes to more moisture evaporating out of the soil," said Mike Doll, meteorologist for AccuWeather. "When the moisture does not get replenished, it's like a vicious cycle."