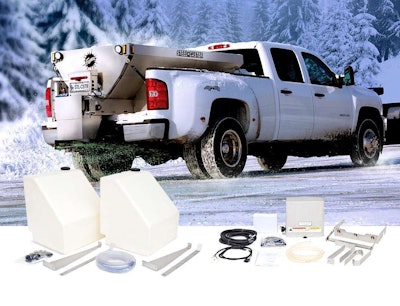 Fisher Engineering's new pre-wet system – designed specifically for the manufacturer's "STEEL-CASTER" and "POLY-CASTER" hopper spreaders – works by pre-wetting material with a brine solution just before it hits the spinner.
Fisher says pre-wetting salt begins a chemical reaction that accelerates melting, which accounts for the advantages of this application over a dry application. Secondly, pre-wet granules allow for more efficient material dispersal and greater spread control when hitting the pavement, the company says.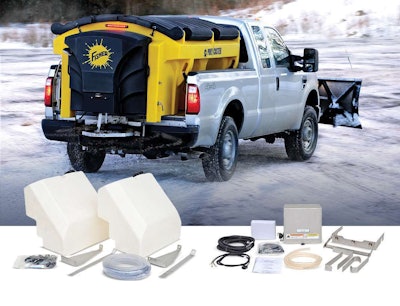 The pre-wet system is available with 25- and 50-gallon poly tank capacities for STEEL-CASTER models and 25-gallon poly tank capacities for POLY-CASTER models. Fisher says each system is constructed with a corrosion-resistant pump housing that protects the pump, electronics and valves.
In addition, each pre-wet system integrates "Fleet Flex" technology, a universal wiring and controls system that enables easy interchanges between electric hopper spreaders. Because each control already features a pre-wet accessory button, the operator can easily choose when to apply brine while spreading, Fisher says.
A valve in the pump housing manually sets the flow rate and additional flow control is available from inside the cab, along with warning lights that alert the operator of a clog or if the tanks are empty.
For more details and specifications on the pre-wet system, visit Fisher's website here. Fisher Engineering is a Douglas Dynamics company.