Sarlo Power Mowers Inc. recently launched a new product, the "Dirt Donkey" Hydro Powered Wheelbarrow.
The Dirt Donkey features a hydro transmission for positive forward and reverse operation with no shifting. The wheelbarrow is equipped with simple controls, articulating suspension and large ag-tread drive tires.
Powered by a 190cc gasoline engine, Dirt Donkey travels over uneven, rough terrain with ease, the manufacturer says, at ground speeds up to 5 mph. It requires no lifting, pushing or balancing of heavy loads.
Sarlo says its new Dirt Donkey has a stable and balanced four-point stance, low center of gravity and 10-cubic-foot bed capacity. It can easily handle loads up to 500 pounds, the company says.
The low bed height minimizes lifting and makes for easy loading. The bed is balanced to enable emptying of heavy loads with minimal effort.
Nissan Titan XD gets 50-gallon fuel tank
Transfer Flow has introduced a 50-gallon replacement fuel tank for the 2016 Nissan Titan XD diesel truck.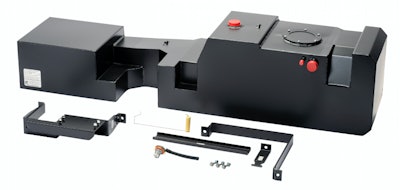 The Transfer Flow 50-gallon midship replacement tank will provide Nissan Titan XD owners with nearly double the fuel capacity and driving range over its stock 26-gallon tank.
Transfer Flow's new Nissan Titan XD high-capacity replacement tank is available from the company through its web site at www.transferflow.com or by calling 800-826-5776. It can also be purchased through one of the company's hundreds of dealers in the United States, Canada and Australia.
The fuel tank comes complete with everything needed for installation and use, including straps, mounting hardware, and illustrated instructions. Installation can be done in a couple of hours by the customer, a qualified mechanic or one of Transfer Flow's 320-plus authorized installers listed at www.transferflow.com/installation.
Like all its aftermarket fuel systems, this new offering for the Nissan Titan XD comes with Transfer Flow's best-in-class 6-year unlimited mileage warranty.
EDITOR'S NOTE: The staff of Hard Working Trucks, another Randall-Reilly magazine, contributed to this report.