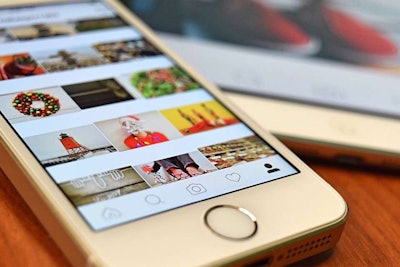 Landscaping can please many senses – the smell of flowers, the soft buzzing of the pollinators attracted to them, or even the feel of healthy turf on bare feet. But, let's face it, the most important sense for professional landscapers and their customers is sight.
Yes, you may be fixing a client's drainage problems, but every job needs to result in something that is aesthetically pleasing.
Your goal is to create a landscape that your customer loves to look at and relax in. So, if this is one of you top selling points, why would you not take advantage of the two social media platforms that are all about visual storytelling?
That's right, I'm talking about Instagram and Pinterest. Both attract certain demographics, and both are great opportunities to show off your fantastic projects.
Unless potential customers are actively seeking a landscaping company for a design/build project, they aren't likely to encounter your portfolio of work. Joining these networks and posting regularly is a smart way to gain more exposure.
Posting on Instagram
Don't worry if you have personal account; Instagram now allows you to create a separate business profile you can link to your business's Facebook page. Business Instagram accounts allow individuals to contact you directly from your profile.
With a business account, you will be able to view your followers' demographics and your audience's behavior so you can create more relevant content.
You can share before and after photographs of your projects, feature special promotions you're running, or show your employees out working. It is important to use related hashtags on the posts so that when people are looking for photos with that hashtag, your pictures will appear as well.
Research shows 88 percent of brand posts include at least one hashtag and these posts receive almost 13 percent more interaction. In addition, posts that use location tags receive 79 percent higher engagement than posts without them.
Tag customers in comments and share their photos on your profile to create a personal connection with your audience and make them feel important. Posts that take advantage of the tagging feature see up to 56 percent more engagement.
If you want to take a more direct approach, you can also create promotions on Instagram and choose a call to action. You can select your targeted audience based on age, gender, location and interests, or you can allow Instagram to suggest the targeting for you.
Because Instagram ads are almost identical to a standard post on the app, they receive anywhere from 20 to 60 percent higher engagement than standard ads. With that in mind, try not to be too salesy with your post. A hard sales pitch can turn potential customers off. Instead, let the picture do the talking. Wow them with one of your breathtaking waterfall installations or a cozy fire pit and patio project. When people see something they want, they'll come to you.
Posting on Pinterest
Like Instagram, Pinterest offers business accounts that provide you with access to analytic tools. If you had a personal account you were using for your business, you can convert this or start a business account from scratch.
Include a description in your profile that tells potential followers why you're on Pinterest and why they should follow you.
Take advantage of the organizational benefits that boards offer you by dividing up your projects by type. Some potential customers may be really into landscape lighting projects, while others are all about the water features. Having separate boards for these different services helps them find what they are looking for.
Only 20 percent of all pins are original pins, so be sure to share plenty of your new projects to help your account stand out. Include a good call-to-action in your pins so viewers will know there is more to the picture than just a beautiful backyard.
Pins aren't just pretty pictures to look at. They also drive traffic to websites; Pinterest is second only to Facebook in referring users to websites.
Aside from regular pinning you also have the option to use promotional pins that can raise awareness, engagement and traffic. With promotional pins, you can create a traffic campaign that targets users who are looking for relevant pins. Businesses are only charged for the clicks to their website.
Both of these social media sites are fairly intuitive. If you decide to use them, try to share intentionally and regularly; otherwise, your photos won't be seen and your account won't be deemed worthy of following.