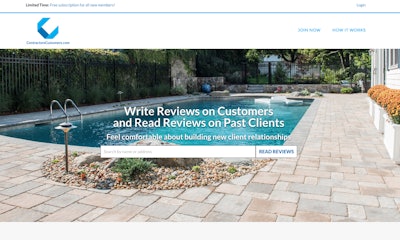 Ever wish you could submit and read reviews about your customers? It only seems fair as most of them have checked out your company's ratings on several sites before deciding to contact you.
With ContractorsCustomers.com, you can write reviews on customers or read reviews that other businesses have left about a particular client.
The website went live earlier this year and is already gaining popularity nationwide. Unlike similar websites, such as NastyClient.com, ContractorsCustomers.com is not just a blacklist for troublesome customers who do not pay on time.
The website encourages businesses to review all types of customers as this helps other businesses find potential customers who they would work well with.
Owner Scott Carzo calls it a "rainbow list" with good customers, potential customers who may not be a good match for your business and everything in between.
This reverse Angie's list offers several benefits for businesses. Companies can save money by not taking on unsuitable clients, and increase their profits by taking on customers they know fit their services.
Also by knowing that a customer is going to pay on time will reduce bad debts and increase landscaping company owners' peace of mind.
According to the site, business owners can not only look up customers but subcontractors can review general contractors and businesses can review suppliers. This sort of accountability can protect companies from unwittingly hiring an unscrupulous subcontractor or buying from a supplier who is constantly late delivering.
Users can search using a company name, customer name or an address to find relevant information. If a customer isn't on the site, business owners can create a profile of them from their own experience.
The review form is straightforward with a one to five star rating and a brief questionnaire. Users can choose to fill out as little or as much as they like.
The site is currently free to business owners for a limited time. For more information, head to the website here or email [email protected].