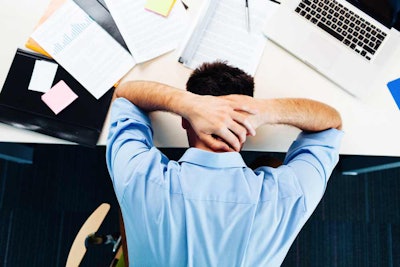 Bankruptcy can be seen as the ultimate demise for a landscaping company, but is actually an opportunity for certain companies to rise from the ashes and recover from its mistakes.
This is not to say you should run your company so poorly that bankruptcy becomes your only option. There is no standard point of no return when it comes to the need to file bankruptcy. Every circumstance is slightly different, but there are common causes as to how you can get your company in such a dire situation.
"First and foremost, it's a lack of paying attention," says David Gallagher, director of success for LandOpt. "It's hoping things will work themselves out."
Most of the trouble relates to capital in some way. An individual can start out his or her business with a hope and a dream, but if a sustainable plan is not put into place, the company will not last for long.
"One of the primary causes is cash flow," Gallagher says. "The concept that because I have $300,000 annually doesn't mean I have that volume of cash to work with."
A company owner could not understand his cost structure or isn't charging the right amount for the work. Not collecting bills in a timely or a complete manner is a bad habit and these debts will accrue quickly.
"The ones in the worst positions cash flow-wise are the ones who are not keeping track of all of their billable hours," Gallagher says. "With more research, they come to realize the volume of dollars they are not invoicing customers."
Other times landscapers can forget historical costs, such as loan payments or principal payments on credit cards, as part of their cost equation. Whatever the reason, there are still some options on the table when you are nearing the verge of bankruptcy.
The first thing step is to assess the severity of the problem. If there is secured debt through the bank, landscaping companies can negotiate their balances and work out a payment plan.
"The challenge that we have from an industry perspective is that they're grass roots, hands-dirty and are afraid if they try to negotiate a balance it will reflect poorly on them," Gallagher says.
Yet when companies try to save face and avoid handling the problem they can go too far, causing them to have to take more drastic measures.
"Ultimately it means that those vendors get little to nothing," Gallagher says. "The bank has a mortgage. They're going to get their assets back. Those people the landscaper was trying to protect get nothing at all and their reputation comes out worse."
Often in stories about companies having to close their doors or file bankruptcy the economy is blamed, but Gallagher sees this as an excuse.
"You do have control over your immediate set of circumstances," he says. "A company that has good cash flow should be able to react to changes. There will be external factors that could create a challenge, but the goal of the company is that they need to mitigate the risk."
Companies that are healthy prior to economic turmoil are far more likely to weather the storm. To prevent outside factors from being such a danger, Gallagher encourages companies to not put all of their eggs in one basket.
Your revenue stream should not be coming from one type of service or one particularly profitable customer. With construction only there is no recurring revenue, causing cash flow to ebb and flow far more. A reliable cash flow from maintenance or another service can help supplement when design/build jobs are lacking.
So how does a landscaping company owner avoid going down this path in the first place?
It's all about acknowledging what you know and what you don't know about the financial side of your business. Once you understand where you are lacking you can either begin educating yourself or finding someone with the knowledge to help you.
Whether it's an accounting firm, a consultant or another outside source they have the financial knowledge to help augment your business.
The other key priority circles back to cash flow. Invoicing early and often can keep you from having to borrow money from the bank or a previous job. Collecting payments in advance or offering a credit card payment option will prevent you from having to wait 60 plus days for a job you finished weeks ago.
"We believe we need a volume of recurring revenue in the green industry," Gallagher says. "Consistent revenue can help smooth out the peaks and valleys."
If your company is already too far gone, you may have already started considering bankruptcy. Your company's size, assets, and your desire will determine which type you should file and if you should file at all.
For very small companies that have two or three employees, Chapter 7 is going to be the most likely choice if the company has no future and there are some assets to be sold. A trustee takes possession of these assets and distributes them among the creditors.
As for sole proprietorships, they can file Chapter 13 bankruptcy and submit a repayment plan that outlines the amount they will have to pay based on their earnings, property, and how much they owe. Individuals can avoid losing their house if their personal assets are tied up in their business assets by filing Chapter 13 versus Chapter 7.
The best option for businesses that still have a future is to file Chapter 11 bankruptcy. This allows the company to reorganize. The creditors vote on the plan the company files and the court approves if the plan is found fair and equitable.
Chapter 11 bankruptcies generally cost around $20,000, but larger landscaping companies that have been in business for many years can benefit from this restructuring.
"Chapter 11 bankruptcy can absolutely be worth it," says Will Geer, an Atlanta-based bankruptcy attorney. "I've helped a number of different businesses file, and it can offer a fresh start."
When it comes to making such a momentous decision be sure to seek both legal and financial council to reach your conclusion and don't do it on a whim. Once you're sure of your next step, take action immediately.
"One of the worst things to do is waiting to contact an attorney until after you've been garnished," Geer says. "It puts a business in a tough spot because after the business has been garnished, it often has no money to pay an adequate Chapter 11 retainer to an attorney. Sitting on your hands is not a good idea."