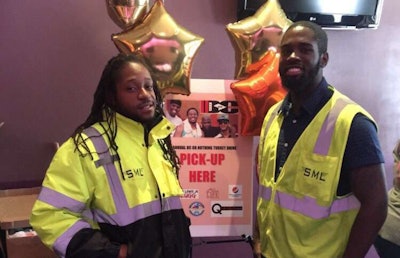 Most of the time when someone has a criminal past, they try to hide it but 25-year-old Jerell Brown is open about his marijuana conviction and the path it put him on.
Brown is now the owner of a successful small landscaping business, SML (Save My Lawn) Services, which is based in the Washington, D.C., metro area. He is in his third year of business with five employees, four used trucks and $10,000 worth of landscaping equipment.
On the company's About Us page, he explains how having a daughter at 18 years old caused him to go straight to work. Due to his need to help support his mother and father as well Brown began selling marijuana to help provide a livelihood for his family.
He grasped making a profit early on in middle school when he sold Black & Mild mini cigars to classmates and raked in about $50 a week to help his mom buy groceries.
"Black & Mild was the gateway … to marijuana," he told The Washington Post.
He continued to sell pot after graduating high school and got a job at a restaurant in Northwest D.C. His side business of peddling weed also boomed as his new job gave him new connections.
On Halloween night in 2012, his bubble burst when he was arrested for having several ounces of marijuana in his car.
Brown was initially charged was possession with intent to distribute while armed. He was held in jail for five days before his court appearance and this was enough of a warning bell for Brown.
Once he appeared in court, he discovered he was looking at up to 60 months in prison.
"After I heard 'five years," in my mind, I was already a changed person. I said, 'I already know what I got to do. I got to get something,'" Brown said.
As he awaited sentencing, Brown spent his eight months of house arrest listening to motivational tapes and completing training programs on job skills and interviewing. Along with character letters from neighbors and previous employers, the judge took note of Brown's earnest efforts to better himself.
In March 2013, Brown was sentenced to one month in jail and two years of probation. Once he was out on probation, he set about spreading flyers offering lawn care services.
"One of my first customers … gave me a project on the spot to see what I could do," he said. "He shared with me his business experiences, giving me tips for success."
After a few weeks, Brown had some residential customers and even eventually picked up a community organization, So Others Might Eat (SOME).
"Jerell is the real deal," said Emily Price, a SOME administrator. "He is incredibly smart, and his business instincts are amazing."
SML Services now has 80 residential clients and handles year-round lawn maintenance and snow removal. Brown's business offers comprehensive services from landscape design to hardscape installation to lawn care.
Brown had his charges expunged from his record and now uses his business to provide local youth with an opportunity to earn an honest wage that keeps them active and out of trouble.