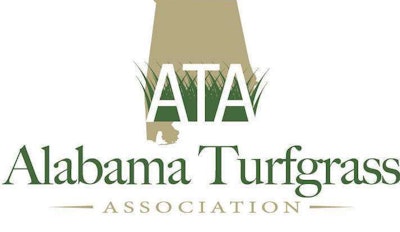 The Alabama Turfgrass Association announced this week the schedule for its annual Road Show Seminars – six educational sessions on the most current topics in turfgrass management led by some of the industry's top researchers and professors.
Participants also can earn pesticide certification points as well as other continuing education units.
The cost is $50 for ATA members, $125 for non-members, $30 for Extension Service agents and $150 for sponsors and exhibitors. Seminars in each of the cities below are scheduled for 9 a.m.-3 p.m. CST. Click on a session link to register.
Auburn University
CASIC Building
559 Devall Drive
Auburn, Alabama 36849
Loxley Civic Center
4198 Municipal Park Drive
Loxley, Alabama 36551
Troy University-Dothan
501 University Drive
Dothan, Alabama 36303
Multiplex @ Cramton Bowl
1022 Madison Ave.
Montgomery, Alabama 36104
Birmingham Botanical Gardens
2612 Lane Park Road
Birmingham, Alabama 35223
Huntsville JayCees Building
2180 Airport Road
Huntsville, AL 35801
Suppliers are invited to provide tabletop exhibits at each seminar. Requests to do so will be handled on a first-come, first-served basis. These sponsorships are $150 per seminar and will include a table, two chairs, two nametags and lunch.