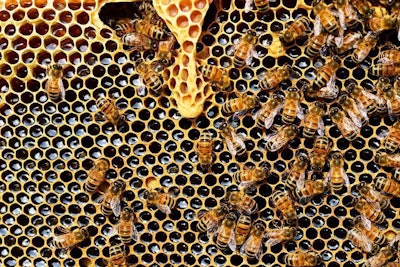 Three days after President Trump's inauguration, he signed an executive order to freeze hiring for the federal government – a move that is proving to have some far-reaching effects.
The freeze was enacted as an effort to eliminate "wasted" money, as White House press secretary Sean Spicer told The Washington Post, adding: "We've got to respect the American taxpayer."
However, this freeze has left a number of individuals in limbo, including Julia Fine, a bee researcher who recently completed her doctorate in entomology at Pennsylvania State University.
Fine was the leading author of a study published in the journal Nature last month that revealed that a common pesticide additive, organosilicone surfactants, could be toxic to honeybees.
Organosilicone surfactants are inert chemicals used to augment active ingredients' potency.
In the study, Fine and her fellow researchers fed organosilicone surfactants to honeybee larvae and exposed them to viruses found in nearly all hives. It was found that larvae exposed to both the chemical and the viruses died at a higher rate than those exposed to either the chemical or viruses alone.
"You've probably heard a lot about the effects of active ingredients [in pesticides] on bees and other organisms, but most people are not aware that they are only a relatively small fraction of the chemicals being used in the environment," Fine told The Huffington Post. "We started looking at the effects of inerts on honeybees because there is a growing body of research showing that not only do they enhance the toxic effects of other chemicals on non-target organisms, they sometimes exert their own."
Fine was planning to move to Utah to continue her honeybee research as a postdoctoral scholar with the U.S. Department of Agriculture's Agricultural Research Service when she was told her position was frozen for an indefinite amount of time.
The mystery of mass bee die-offs has been a concern for scientists and beekeepers for many years now. Between 2015 and 2016, beekeepers reported losing 44 percent of their honeybee colonies.
Fine stated her research could be important for both bee health and agriculture, due to farms' critical need for pollinators.
"We are very close to being able to make sound recommendations to growers that will prevent the effects we observed in the laboratory from occurring in the field," she said.
Yet, in order to make applicable recommendations, Fine explained, she still needs to determine the precise amount of organosilicone surfactants in the environment to understand how much honeybees are exposed to.
"We also need to examine their effects in other species, including other pollinators," Fine said. "We know that native pollinators can also be affected by honeybee viruses, and are also likely to be exposed to organosilicone surfactants. Because of the declines in native species like the rusty patched bumblebee, we need to consider that these chemicals may also affect them."
Fine followed through on her move to Utah despite the freeze and is currently searching for other sources of funding for her research. Until then, the work will be held in abeyance.