Lake Erie Portable Screeners has introduced a portable box screener as a smaller alternative to the Pitbull 2300. The Pitbull 2300B has no conveyors and features a smaller frame.
Although the new 2300B model is simpler, lighter and more compact than the larger version, Lake Erie Portable Screeners says it delivers high outputs with a wide range of materials, including topsoil, mulch, gravel, stone and asphalt.
The manufacturer says it's targeting small to midsize contractors in the landscaping industry, as well as companies in construction and excavation.
Lake Erie Portable Screeners will feature the Pitbull 2300B and 2300 March 7-11 at CONEXPO-CON/AGG 2017 in Las Vegas.
"We want to make sure our product is attainable to everyone who could benefit from it. That's why we created an entry-level machine for smaller contractors and rental centers," said Stuart Foradora, Lake Erie Portable Screeners factory representative. "The 2300B has the same screening rate and durability as the 2300 but in a smaller, more economical package."
The 2300B has a smaller hydraulic system than its predecessor and is powered by a 21.5-horsepower Honda two-cylinder gasoline engine.
The screening plant incorporates an anti-spill loading apron that accepts as much as 3 cubic yards of material at a time, depending on the feed rate. With its low dump height of 8 feet, 4½ inches, operators do not need loading ramps; they can fill the hopper using typical construction equipment, such as skid steers, backhoes, loaders or excavators.
While the screening rate remains the same as with the larger 2300, the 2300B deposits the screened material into a large, open space below the screener rather than onto a conveyor belt.
The 7,300-pound machine can be towed with a Class 3 truck; the larger 2300 requires a Class 4 truck.
The portable screening plant has an upper and lower screening deck, each providing more than 41 square feet of screening area.
For more detail, including complete specifications, visit the manufacturer's website here.
Adapter puts 'universal' attachment on standard skid steer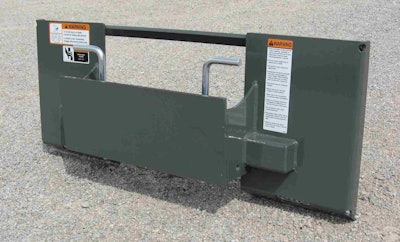 A new adapter from Worksaver Inc. is designed to allow "universal" mini skid steer or compact tool carrier attachments to be connected to a standard skid steer.
The adapter mounts to a standard skid steer and accepts attachments with the "universal mini mount," which is found on machines from Toro, Boxer, Ditch Witch and RAMROD.
The new adapter allows operators to easily switch attachments between a mini skid steer and standard skid steer, Worksaver says, providing greater versatility with respect to attachment options.
Bosch offers new cordless floodlights
If you've been searching for more light on the jobsite but want to avoid the hassle of carrying around a giant light source, Bosch says it has the answer with the introduction of GLI18V-1900 and GLI18V-1900 C Floodlights.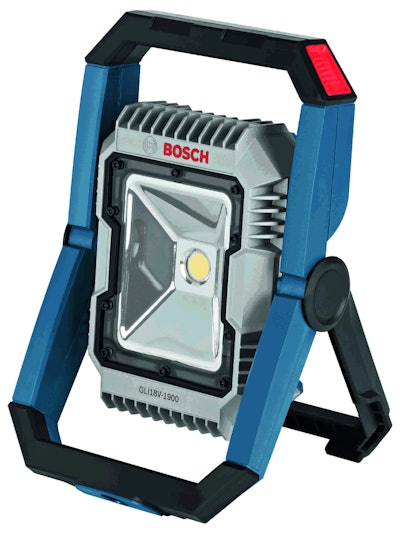 The cordless, high-power LED offers two brightness settings: 1,000 lumens or 1,900 lumens. The floodlight includes an on/off switch.
The GLI18V-1900 C offers Bluetooth connectivity accessed through a corresponding app. In addition to controlling the light, the connectivity function allows the user to manage several lights simultaneously with one click. The two-way Bluetooth transfer chip ensures low power consumption between the light and a smart phone, and Bosch says the application is easy to use.
The floodlight frame is compact and weighs less than 2 pounds. The GLI18V-1900 C offers the added advantage of tough water and dust resistant construction (IP protection 64).
The light can be set in a variety of positions to illuminate any large space, the manufacturer says.
For complete details on the new floodlights, visit Bosch's website here.
Camso to debut severe-duty tires and tracks
Camso, formerly Camoplast Solideal, is bringing new additions to its line of skid steer tires and telehandler range of products to CONEXPO-CON/AGG 2017 next month in Las Vegas.
The company will be attending the show for the first time as Camso, "the Road Free Company."
Camso says its R&D and product development teams have worked for several years now on a major initiative to "reinvent" the company's construction tire line and bring to the market the best performing, most durable tires and tracks for the toughest construction applications.
Among the products on display at next month's trade show will be Camso's SKS 753 and SKS 532. The company says the SKS 753 features an innovative non-directional tread pattern and was built for optimal performance on mixed and hard surfaces. Camso says the SKS 753 provides users with 30 percent more tire life than earlier products.
The Camso SKS 532 delivers superior traction for skid steers working primarily on mixed and soft surface conditions often found in construction and landscaping applications, according to the company.