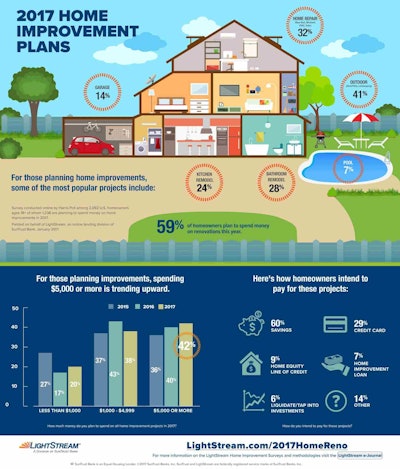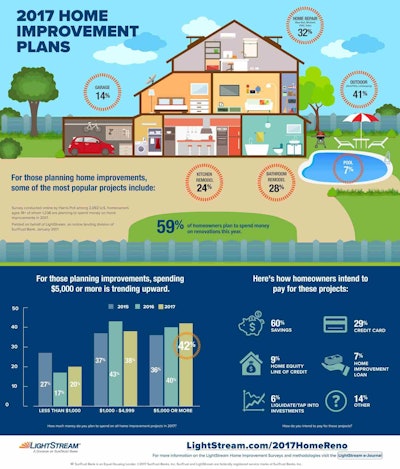 More than half of homeowners are planning home improvement projects in 2017 and nearly a quarter are planning to spend $10,000 or more, according to a survey conducted by LightStream, the online lending division of SunTrust Banks.
While 42 percent plan to spend $5,000 or more on improvements, the 23 percent homeowners who plan to spend $10,000 or more are the highest percentage since the first study in 2014. The poll was conducted in January 2017 among 3,172 adults in the U.S.
Outdoor living remodeling will be the number one project, with 41 percent of respondents planning to spend money on decks, patios or landscape renovations.
Home repairs/technology were the next top project at 32 percent, bathroom updates at 28 percent and kitchen remodels at 24 percent. Pool installations had a survey high of 7 percent, a 40 percent increase from 2016.
Credit card use increased to 29 percent, up 16 percent from last year, while 60 percent of homeowners still plan to use savings to cover renovation projects. Other payment strategies listed included home equity lines of credit (9 percent), home improvement loans (7 percent) and liquidating investments (6 percent).
"This year's survey shows that many homeowners plan to pay for renovations with credit cards," said Todd Nelson, LightStream business development officer. "Though credit cards typically advertise rewards, they may in fact have high interest rates or convert to higher rates after an introductory period of time. For large-ticket home improvement purchases, credit cards may not be practical."
Homeowners ages 18-34 who have previously been averse to home ownership now have 69 percent planning to spend money on renovation projects. Meanwhile 72 percent of Generation X (age 35-44) plan to renovate a portion of their home. The boomer generation's interest in remodeling has dropped to 57 percent, an 11 percent decrease from 2016.
Those living in the West are seeing major growth, with 64 percent citing plans to start improvement projects this year. The South follows close behind with 61 percent and the Midwest and Northeast are tied at 56 percent of homeowners planning to spend money on upgrades.