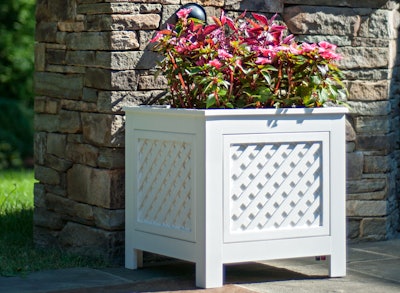 Americans have begun spending more time outdoors for numerous reasons, including entertaining, DIY projects and gardening. With these in mind, In Tune Partners have introduced their newest idea for outdoor entertainment: PlanterSpeakers.
The idea of adding speakers to an outside landscape is nothing new, the company says, as all-weather bracket speakers and speakers housed in rocks have been around for years. New to the scene are PlanterSpeakers, which are housed in architectural planters and feature state-of-the-art drainage. Woofers, tweeters and sometimes mid-range or crossover units are sealed and weatherproof because they are hidden in the planters.
These planters can be placed around pools or at different intervals in the garden and homeowners can still experience high fidelity sound, In Tune Partners says.
PlanterSpeakers come in a variety of sizes, shapes and materials, such as the no-maintenance AZEK, industrial grade poly resin, sustainably farmed teak and reclaimed wood. With proper installation, the speakers can be controlled from a smartphone, and they are built to operate in hot sun, rain, snow and cold.
With the use of a home's existing wifi connection and a Sonos transmitter and app, the users can control the volume and song selection of their PlanterSpeakers via their smartphone.
Prices for PlanterSpeakers range between $500 and $6,000 a pair, and two levels of audio excellence is available, the company says.
VERSA-LOK introduces Bronco II retaining wall
The Bronco II segmental retaining wall system, the newest line of heavy-weight retaining wall products by VERSA-LOK, was recently introduced.
The Bronco II wall system units weigh from 1,220 to 3,215 pounds without cores filled and can weigh 1,450 to 3,820 with cores filled. The system has a display with 6 square feet of face area with a 3.2° batter.
To ensure correct near-vertical positioning and allow for tight joints with variable-bond construction, channels are molded into the bottom and alignment knobs are molded into the top of the units.
Nine units make up the Bronco II system: a half unit, L/R corner units, three units with varying depth, a cap unit and L/R corner caps. Without soil reinforcement, the units can be used to build walls up to 15 feet tall. VERSA-LOK says this feature makes the system ideal for projects with excavation constraints, and the system easily accommodates geogrid for taller walls.
The Bronco II system features near-vertical construction and variable bond, and the natural stone appearance of the system's face can be enhanced with stain to blend into the natural environment.
Black Diamond high performance color enhancing sealers available
Black Diamond Coating Inc., has recently launched its new high performance color enhancing sealers, which are available now.
The SG+ formula of this sealer has no visible color loss after 1,000 hours in the UV chamber that simulates sun and humid conditions, the company says. It was also reported that 73 percent of its original shine was still retained in the period.
"Contractors love the ease of use of our water-based sealers, but they wanted products that would have a longer lasting shine," said David Warren, president of Black Diamond Coating. "We pride ourselves on 'Customer Care' and above and beyond product support, so when they wanted an even better product, we have delivered."
Black Diamond Coatings' color-enhancing sealers include SG+ (Gloss to Semi-Gloss), NG+ (Low-Gloss to No Gloss), LG+ (Semi-Gloss to Low-Gloss), WOOD+ (Semi-Gloss to Low-Gloss) and STONE+ (Low Gloss to No Gloss).
Warren owned a successful paver restoration business for many years, and this inspired Black Diamond Coatings' saying "by contractors, for contractors."
"Our products need to continue to evolve to ensure that we are delivering the best products on the market for our customers," Warren said. "We believe that the high performance water-based sealers are truly the best on the market. As technologies change, we will continue to work on delivering the highest quality products that deliver value to the contractors that apply our sealers and the property owners that benefit from them."