Atlas Copco has produced the XAS 185 portable air compressor, its first piece of equipment at its new production facility in Rock Hill, South Carolina.
Construction on the facility began in January 2016 and included lean manufacturing features that are sustainable for the environment, the company said. The XAS 185 is the first product of Atlas Copco's equipment that will be produced at the plant. The plant officially opened in February 2017.
"We have a continued commitment to the U.S. market," said Scott Carnell, Atlas Copco U.S. president. "This commitment is more than our ongoing innovations in equipment design. It also involves being close to our customers, and our new facility helps us achieve that."
The company says that it built the facility to enhance its support for the North American construction market, and the 180,000-square-foot plant is Leadership in Energy and Environmental Design certified. the facility also serves as the assembly facility for Atlas Copco's North American Construction Technique division.
Team members commemorated the event by signing the compressor as it exited the product line.
Thunder Creek introduces combo diesel/DEF transfer tank
Thunder Creek Equipment recently released its first combo diesel/DEF transfer tank for pickup trucks.
This tank provides 100 gallons of diesel and 18 gallons of DEF capacity that fits into the bed of half-ton and larger pickup trucks, including goosenecks and fifth wheels. The company says that with both pumping systems concealed within the structure, no elements protrude from the tank. No more than half of the rear window is taken up with its new design.
"We know that many equipment owners are still in the early stages of determining the best way to handle DEF in the field," said Luke Van Wyk, national sales manager and owner, Thunder Creek Equipment. "This combination tank – which takes up a similar footprint as today's pickup truck tanks – provides owners with an efficient and contained way of transporting both diesel and DEF out to the field in a design they are familiar with."
Both an 18-gallon polyurethane DEF tank that can be substituted with a tank and pumping system for engine or hydraulic oil and a 100-gallon steel diesel tank are featured in this combo tank. Automatic and manual fill nozzles are available and are located on the driver's side of the truck. They extend out 10 feet from the tank.
A thermostatically controlled DEF heating system is an available option for use in northern climates; this ensures that the temperature of the DEF tank, hoses and pumps don't slip below 25 degrees Fahrenheit, the company says. The heating system is a 12V Webasto, runs off diesel from the tank and is self-contained.
At 15 gallons per minute (GPM) the diesel is pumped via an industrial-grade 12V pump, while DEF is pumped at up to 10 GMP. Another available option is Thunder Creek's proprietary 2-in-1 DEF pumping solution. This pumps DEF in and out of the tank through a closed system.
The transfer tank and every component are concealed in a lockable, weather-sealed enclosure. This comes with a diamond plate aluminum door option.
Ditch Witch's MT16 microtrencher used on fiber jobsites
Ditch Witch has introduced the MT16 microtrencher, which the company says will improve ROI on fiber jobsites. When working with the Ditch Witch RT55 or RT80 ride-on trenchers and the FX65 vacuum excavator, Ditch Witch says the MT16 is an ideal trench in a single, quick and effective pass.
The MT16 is designed to cut narrow trenches 0.5 to 2.0 inches wide and up to 16 inches deep during fiber deployments. It also features an integrated hydraulic accumulator that maintains constant pressure on the saw frame.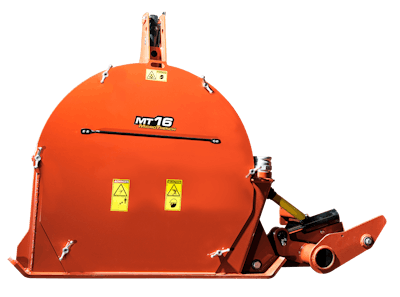 Additionally, variable depth control from zero to 16 inches is provided by an infinitely variable hydraulic plunge feature, which eliminates manual adjustment of the microtrencher. The frame of the unit swings up to six degrees in each direction.
"Constrained time and unplanned expenses are the leading jobsite hurdles we hear from utility contractors," said Steve Seabolt, Ditch Witch product manager, heavy duty trenchers. "Our new MT16 microtrencher is designed to help operators complete fiber jobs efficiently with less time and expense. Compared to traditional installation methods, the MT16 creates consistent trenches for faster fiber deployments, reducing the cost-per-foot on fiber jobsites."
From standard carbide-tipped blades to the Ditch Witch-exclusive Fiberblade, the MT16 is compatible with a complete lineup of Ditch Witch saw blades. The Fiberblade line of blades combines the benefits of both diamond and carbide, and features a durable, maintenance-free design lasting up to 10 times longer than standard blades, Ditch Witch says. All MT16 blades are easily changeable with standard hand tools.
The MT16 adds to the Ditch Witch family of microtrenching solutions by joining the FX65, MT9, MT12, Fiberblade and 1CM concrete mixer.