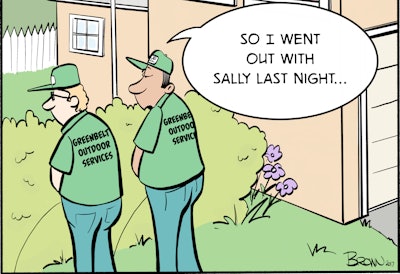 Landscape Leadership, a sales marketing agency for green industry companies, has recently created a new comic strip. This comic, called Green Ways, will feature a cast of characters from the fictitious landscape contractor Greenbelt Outdoor Services.
"Comics have always been an effective way to get a point across," said Chris Heiler, Landscape Leadership CEO. "This is another way for us to share our experiences and insight with lawn and landscape professionals, yet do it in a fun way that resonates with our audience."
Focusing mainly on marketing and sales-related issues that impact companies daily, Green Ways will be released starting in April and will run its 18 comic strips throughout 2017.
"If you've made a career in the lawn and landscape industry, our stories will be familiar to you," Heiler said. "We're going to sprinkle in the good, bad and ugly of growing a landscaping business."
All comics are drawn by professional illustrator Jonathan Brown, and the first comic strip, entitled Branding, is available for viewing on the Landscape Leadership blog.
"It's amazing how Jonathan gives life to our crazy ideas," laughs Heiler.
Heiler says that Branding illustrates how easily employees can negatively impact a company's good name. For subscribers of the Landscape Leadership blog, each new comic strip will be delivered via email.