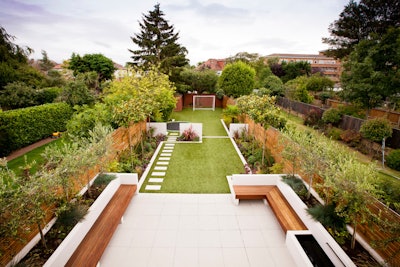 By Lauren Dunec Hoang, Houzz contributor
With a few clever ideas to expand views and maximize space, narrow lots can look and feel more expansive than they really are. Here are a dozen ways to transform a skinny lot into an inviting garden with room for outdoor entertaining, hidden storage, places to relax and everything else on your client's garden wish list.
1. Create curves. Undulating pathways and planting beds running across a narrow yard can trick the eye into thinking the space is wider. For example, consider this narrow, wedge-shaped garden in Hertfordshire, in southern England. Three circular lawns bordered by stone pathways and verdant planting beds encourage one's gaze to meander back and forth across the property, making the garden appear larger than it is.
2. Go diagonal. Shift the sightline of the garden by laying out walkways, seating areas and planting beds at an angle between 30 and 70 degrees to the house. A diagonal garden layout works much in the same way as a curving pathway to direct a viewer's gaze and make a narrow garden feel more expansive.
3. Divide the space for different uses. Maximize space in a narrow garden by splitting it into smaller sections, giving each one a different purpose. The designer of this long, skinny garden in Strawberry Hill, London, made the most of the 90-by-23-foot space by separating it into three distinct areas: a tiled courtyard, a formal magnolia-flanked lawn, and a more casual children's area with a soccer net and inground trampoline.
4. Or devote the space to your top priority. If you have a small, narrow garden, it can be a better strategy to focus on having it do one thing well rather than trying to squeeze in too many elements. For example, the owners of this home in Vancouver, Washington, devoted the sunniest area of the backyard to growing a robust kitchen garden in galvanized metal feed troughs.
5. Layer plantings to avoid the "corridor effect." Planting beds that curve in from the sides of a garden and cut into the line of sight down the yard help break up a "corridor effect" and make the garden seem wider. Vary the heights of plants in the beds as well as their foliage and flower colors to emphasize dimension in a small space.
6. Maximize growing space. Look for ways to increase planting opportunities without taking up floor space. Add trellises to fences, invest in a living wall, train fruit trees into espaliers and look for tall, skinny containers to plant.
This garden in London is hardly more than two arm's-lengths across, yet it is inviting and light-filled. The garden makes use of plenty of space-maximizing design tricks: narrow, raised planting beds; trellises attached to walls; and a grade change to separate garden areas.
7. Create a cozy outdoor room. Another strategy for narrow lots is to embrace the feeling of increased intimacy that comes with a relatively small and enclosed space. Make it look inviting with outdoor furniture, potted succulents, plants climbing up walls, and a string of twinkling cafe lights overhead.
8. Mask some areas of the garden from view. Make use of hedges, trees, outdoor screens, fences and walls to conceal some parts of the garden from view, leaving them to be discovered. Masking the far end of a narrow garden can be a particularly effective design trick to make a garden look shorter and wider than it really is. The hidden back area can be a useful spot to store garden items, conceal a compost pile or grow prickly brambles.
9. Go for built-in seating and storage. It can be worth it to splurge for custom seating and storage, rather than trying to fit a purchased piece into a narrow lot. In this garden in southwest London's Clapham neighborhood, bench seating built into the planter saves space and allows for room for a narrow dining table, a pair of colorful chairs and a garden shed. The area beneath the bench could also be enclosed for additional storage.
10. Incorporate grade changes. Varying the level of different areas of the garden can help define them and create multiple destinations in a narrow garden. Terraces are a natural solution to sloped lots, but completely flat gardens can also also benefit from grade changes. Add a raised deck under an outdoor seating area or remove soil to create a sunken patio.
11. Add outdoor lighting. Soft, glowing lights give a narrow garden much more dimension in the evening. The trick to getting outdoor lighting right is to add a diversity of light types (accent lights for highlighting plants, washes for walls, and path lights for safety) and keep them subtle. The designer of this narrow garden in Sydney used soft lights on plants and clever track lighting beneath the bench to give the illusion that the seat is floating.
12. Create an "outdoor ceiling." Narrow backyards can be just the right width for adding a cover in the form of a trellis, arbor or shade cloth. Creating an "outdoor ceiling" can increase the feeling of intimacy in a garden and help screen adjacent buildings. Here, the designer added metal arches to span the entire width of the garden and to support the growth of climbers.
EDITOR'S NOTE: This article is from Houzz. Hoang is a landscape designer and was previously a garden editor for Sunset Magazine and in-house designer for Sunset's Editorial Test Garden.