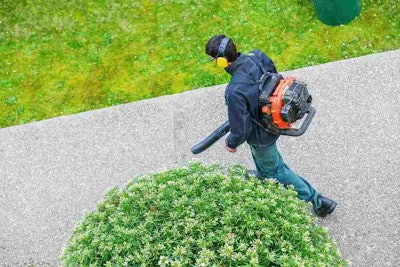 As a compromise and one step shy of a total leaf blower ban, the Palm Beach Town Council has forbidden the use of gas-powered blowers on properties smaller than one acre.
An absolute ban has been contemplated since 1991 and the town has tried to keep homeowners appeased by instituting a sound limit in 2006.
Since the limit to 65-decibel blowers, homeowners have still complained as it has been difficult to enforce and a majority of the time the two code enforcement officers merely issue warnings to the violators.
Council members and the mayor have also argued it's not practical to enforce the decibel limit as the blower has usually been put away before the code officer has arrived to respond.
Multiple landscaping companies implored the council to simply step up enforcement instead of enacting the ban that would require them to purchase battery-powered or electric blowers.
"I don't have the budget to go out and buy all these batteries and blowers," Mitchell Taylor of Mitchell Taylor Lawn told Palm Beach Daily News.
Others had safety complaints and reservations about switching to battery-powered or electric blowers. One noted that with the abundance of swimming pools in the area, electric blowers posed the risk of shock, while other landscapers were not fond of having to stock extra batteries.
"These lithium ion batteries we are putting in our trucks," Kirk Carlson of Armstrong Landscape Group told Palm Beach Daily News. "If they get punctured, they burn at 2,100 degrees…We need multiple batteries."
Scott Lewis of Scott Lewis' Gardening and Trimming seems skeptical this ban will be any easier to enforce than the decibel limit.
"By compelling us to move toward battery blowers when the technology is not ready yet, you are hearing in advance its danger factor," Lewis told Palm Beach Daily News. "Malfeasance is something that was said to me."
The town's attorney has already said the ban is legally defensible, despite Lewis and others often saying they feel their industry has been discriminated against.
Only one council member, Margaret Zeidman, voted against the ban.
"I do feel we have to listen to industry professionals about this," she told Palm Beach Daily News.
The new ban will take effect in six months.