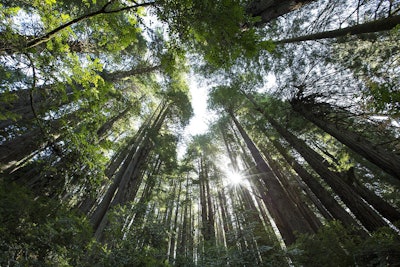 Today is Arbor Day, and all across the nation those dedicated to helping the world thrive will find different ways to help Mother Nature out. What would the world be without trees? Can you even imagine a world without these magnificent creations beautifying and benefiting the environment? For those who might not yet be convinced of why we need trees as much as we do, we've gathered a few reasons trees truly benefit the environment.
Trees help combat climate change and clean the air
Many different factors can cause excess carbon dioxide (CO2) to build up in the atmosphere, and this can contribute to climate change. Trees absorb this CO2 by removing and storing it before releasing it as oxygen back into the air. According to Tree People, in the span of one year, an acre of mature trees can provide enough oxygen for 18 people. Trees not only absorb CO2, but they can also take in odors and pollutant gases. They can then filter particulates out of the air by trapping them in the bark and leaves.
Trees can cool the streets and conserve energy
Trees can cool a city by up to 10°F by breaking up urban "heat islands" and releasing water vapor through their leaves. According to Tree People, if you were to strategically place three trees around a single-family home, it could cut summer air conditioning needs by up to 50 percent. When the energy demand for cooling houses is reduced, the amount of carbon dioxide and other emissions is reduced as well.
Trees save water and help prevent water pollution and soil erosion
The shade provided from trees helps reduce the speed at which water evaporates, and they reduce runoff by breaking rainfall, which allows water to flow into the soil below. This helps prevent stormwater from carrying pollutants into the ocean. Trees can also act as a sponge when mulched and can filter the water they collect to recharge groundwater supplies. When placed on hillsides and stream slopes, they can also slow runoff and help hold the soil in place.
Trees increase property values and business traffic
Along with the numerous environmental benefits trees provide, they also can help those in the business and realty world. Trees not only increase property values, they can also increase business traffic. When property looks beautiful and well-maintained, Tree People says the property values can rise as much as 15 percent. Studies also show that the more trees, plants and landscaping a business has, the more likely it is that business will flow in. Tree-lined streets will also cause traffic to slow, which will allow drivers and passengers to take in the sights of the store fronts as they pass by.
On a whimsical note, trees not only play an important role in everyday life. Over the years they have also played some important roles in movies and television. Who here remembers monumental characters such as Grandmother Willow in Pocahontas, Treebeard in The Lord of the Rings and Groot from Guardians of the Galaxy? All three were literally trees! And look at all they accomplished in their time on the big screen. And let's not forget the impact that Theodor Seuss Geisel's (Dr. Seuss) famous character the Lorax had on the Onceler and Thneedville. Even though these characters are fictional, they all bring personality, life lessons and humor to the table, and they also get kids thinking early on of the role trees play.
William Blake once said, "The tree which moves some to tears of joy is in the eyes of others only a green thing that stands in the way. Some see nature all ridicule and deformity… and some scarce see nature at all. But to the eyes of the man of imagination, nature is imagination itself."
This Arbor Day, let's work to change the negative perception some may have of trees. What will you be doing today to celebrate?