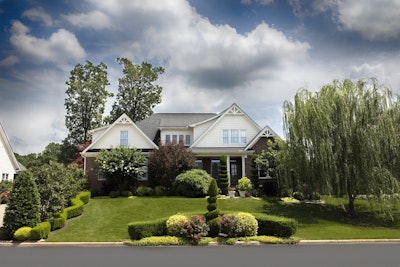 On Arbor Day, we talked about the importance of trees and how they give back to the environment. We also briefly mentioned the fact that trees not only benefit the environment, they also benefit those in the realty and business world.
Trees have been known to raise the value of property and drive foot traffic to store fronts, but some customers may still be iffy about adding these giants to their landscape. For customers who may not yet be sold on having trees in their yards or around their businesses, here are a few statistics to back these claims.
When a property looks beautiful and well-maintained, Tree People say the property values can rise as much as 15 percent. Studies also show that the more trees, plants and landscaping a business has, the more likely it is that business will flow in. Tree-lined streets will also cause traffic to slow, which will allow drivers and passengers to take in the sights of the store fronts as they pass by.
"Trees can be a stimulus to economic development, attracting new business and tourism," says the Arbor Day Foundation on their website. "Commercial retail areas are more attractive to shoppers, apartments rent more quickly, tenants stay longer and space in a wooded setting is more valuable to sell or rent."
In Portland, Oregon, and Sacramento, California, a study was conducted by Dr. Geoffrey Donovan, economist and researcher with the USDA Forest Service's Pacific Northwest Research Station, that proved trees can help save money when it comes to electricity bills and can boost property value.
After planting trees on the west and south sides of Sacramento houses, it was determined that summer time electricity usage reduced bills by an average of $25.16. The study done in Portland showed that when trees were grown in front of houses, an average of $8,870 was added to the sale price of the home, and the time on the market reduced by almost two days.
The study also said these benefits spilled over into neighboring properties, with trees growing along a public right-of-way adding an average of $12,828 to the combined value of homes within 100 feet. For the city as a whole, it was determined that these street trees added $45 million annually to Portland's property value, and annual maintenance costs for these ran at about $4.6 million, which the study says is mostly borne by property owners.
According to the National Association of Realtors' magazine, Realtor Mag, planting a tree on the west side of a home can reduce energy bills by three percent within five years and 12 percent within 15 years.
Having these protective giants in the yard can also come in handy when damaging winds try to take down a home. Having trees can potentially reduce wind speed from 35 mph to 10 mph, according to the Arbor Day Foundation.
If your customers have reservations about taking on such a, literally, large commitment, remind them that there are also many options for small trees if they want to take baby steps. But keep these stats in your back pocket to help seal the deal if they seem remotely interested in saving money on their energy bills or increasing their property values.