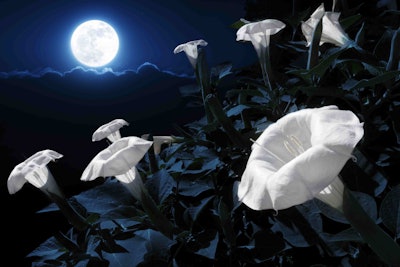 Most gardens and landscapes are designed to be enjoyed in the brilliance of the sun, but moonlight gardens are designed to thrive in the twilight.
These types of gardens can be mysterious and magical as silver and white plants appear to glow in the evening. They can be found everywhere from state parks such as Sonnenberg Gardens and Mansion State Historic Park to humble backyards.
Contrary to popular belief, moonlight gardens are not filled with flowers that only bloom at dusk, nor are only white flowers used.
"Moonlight gardening relates to plants that show off their textures, colors, and sometimes their silhouettes from dusk into the moonlight hours," Irene Barber, the coordinator of the Adult Horticulture Education Program for the Coastal Maine Botanical Gardens in Boothbay, Maine, told Mother Nature Network.
Light colors like lavender, chartreuse, buttery yellow, and soft pink can all achieve a nice glow when basked in moonlight. Adding silvery, gray, and variegated foliage can also help add contrast to the garden.
Because of the different growing requirements of the various plants that do well in moonlight gardens, it's better to spread these plants throughout the garden rather than in one spot that is often drenched in moonlight.
It's also a good idea not to get caught up with only low-growing foliage and flowers. Add some height by selecting vertical growing plants like snapdragons, foxgloves, and rose of Sharon, growing climbing vines up a white trellis, or adding trees with light-colored bark.
Aside from white and light-colored flowers, another popular feature of moonlight gardens are the night-time fragrances. While the sweet smells in the air a certainly a treat, they also serve a practical purpose in attracting nighttime pollinators such as moths or bats.
Flowering tobacco, angel's trumpet, night jasmine, night phlox, and four o'clocks are just a sampling of some of the fragrant flowers that give off their scent in the evening/night.
Some of the other design elements that you can work to include are light-colored hardscaping elements, such as paving, fencing, arbors, and benches. White garden ornaments can also be used. It is important to keep off-white flowers away from those that are truly white, otherwise, it can make the other plant's color look dingy.
Reflective surfaces are an excellent way to capture the moonlight and scatter it around the space, whether it be glass objects, mirrored tile, or a water feature with a slick surface. If the customer already has a pond, night-blooming water lilies like 'Red Flare' and 'Charles Tricker' are good additions to a nighttime display.
For new moon nights, or when it is merely a sliver, soft outdoor lighting can step in to fill the gap, but it is important they are not too bright, otherwise, the illusion will be shattered.
There are numerous flowers that can be used in a moonlight garden including New Guinea impatiens, petunias, dahlias, clematis, and bellflowers, but the one iconic plant you should always strive to include in a moonlight garden is the moonflower.
Here is a list of some of the plants used in moonlight gardens, but it is better to pick a few favorites and practice repetition. Plant material should be selected based on varying shapes, sizes, textures, and heights as well as growing needs.