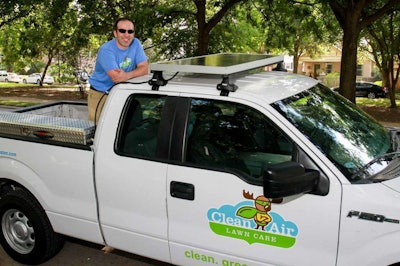 For Clean Air Month, we already highlighted how living landscapes can help purify the atmosphere, but this company has taken it one step further by striving to reduce its air pollution as much as possible.
Clean Air Lawn Care is based in Fort Collins, Colorado, but it has franchises spread across the country thanks to the dream of CEO and founder, Kelly Giard.
Giard owned a traditional gas-powered lawn care company in high school and college, and after becoming a stockbroker he stumbled upon pollution statistics about the green industry while researching sustainable business practices.
He had always enjoyed the work of his lawn care business and so in 2005 he hired an intern to help him develop a profitable lawn care model that reduced air pollution. By 2006, Clean Air Lawn Care was being run as a side job out of Giard's garage.
The next year they took the company nationwide to see how the sustainable lawn service model would hold up across the country. Clean Air Lawn Care was scattered in 10 different regions including Austin, Boston, Seattle, Portland and Denver.
Now the franchise has 53 territories, which is soon to be 55, according to Giard. He notes that they are adding about one franchise a month and it's starting to speed up to two a month. He isn't trying to have one in every state, but he would like to expand to the Southeast.
"The person who wants to become a franchise owner is a green entrepreneur," he said. "They're not someone who has been in the lawn care industry. The industry itself hasn't started knocking down our doors yet. I wouldn't say the industry has bought into the way we do things yet."
It's understandable why those in the lawn care business haven't bought into Clean Air's way of doing things as most still treat electric-powered equipment with high skepticism, claiming it will never catch up to the power of gas.
Clean Air Lawn Care solely uses electric and biodiesel-powered equipment, and some brands like Black & Decker have even partnered with the company to test their commercial electric outdoor power equipment.
"We're the first people to break their products," Giard said. "They give us their stuff before it goes out so they can fix any issues that we uncover."
Now as electric-powered equipment has become more available, Clean Air uses a number of brands, but prefers Mean Green Mowers for their lawn mowers and likes to use STIHL for their smaller products. Clean Air Lawn Care also uses DeWalt, Echo and some Greenworks products.
Kubota is the only machinery that uses biodiesel, but Giard is skeptical about how much longer it will be a viable fuel option as fueling stations have decreased over time.
"I feel it's going to get mothballed as a fuel source," he said. "It's just hard to get. You practically have to make it yourself to have it on hand."
The franchises use solar power during the day and wind power at night to charge their electric equipment, but for franchises in areas where the weather doesn't cooperate they have to plug the batteries into a wall.
"We do our best," Giard said. "Our equipment is probably charged with solar 80 to 90 percent of the time. Certain locations are 100 percent of the time, but you can't control your options with green energy when you're in different areas. Some have to adjust."
As for productivity, Giard admits that he does see a drop during fall clean up time, but compared to 2006-2007 when the company was running at about 50 percent of the power of gas, he estimates his crews now have abut 90 percent the power of a gas crew.
Another focus of the business is on caring for the lawn organically. Giard's company has created its own organic fertilizer with an NPK of 10-0-2 which helps the lawn stay a deep green without giving it a bluish tinge. So far, the franchises haven't had any phosphorous deficiencies in the soils where they work, so their fertilizer works just fine with their liquid program.
The company services both residential and commercial, but only about 10 percent is commercial business.
"We are expanding into commercial as our equipment and experience gets better," Giard said. "We've been involved with all kinds of commercial opportunities. We mostly do small commercial businesses, HOAs and private schools, but now we're starting to get into municipalities."
According to Giard, the franchise becomes very popular with customers once they become aware of it. Once they discover there is one in the area and it will be a similar experience and cost to a traditional professional lawn care company, they're very open to it.
"Once they're on board they're committed to it," he said. "I'd say 25 percent of our business is from word of mouth."
Giard acknowledges that Clean Air Lawn Care is targeting a niche audience and is on the high end of the market. For those who don't see the value in what Clean Air Lawn Care offers, Giard doesn't waste his time trying to convince them.
"The way the market is segmented there are those competing on price and the other is competing on professionalism," he said. "We don't try to compete on price. We're 10 to 15 percent higher than the professionals."
As for why customers choose Clean Air, it's a bit of a mixed bag. The sustainability factor is an important part to about a quarter of its clients, while the health of their dogs has come as the No. 1 concern for the majority. The quieter nature of the electric equipment also helps the company seem less intrusive compared to traditional lawn care businesses.
While it's obviously the black sheep of the green industry with its focus and commitment to electric equipment, Giard feels this business model will soon be the norm.
"We're the non-smoking restaurant," he said. "Once people go to a non-smoking restaurant they don't want to go back to the smoking restaurant."