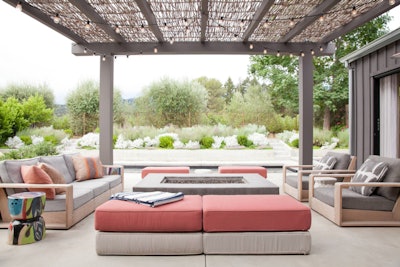 To add a spot of shade in a backyard, all you really need to do is open up a big umbrella. But with today's options for shade sails, screens and trellises, we've come to expect our shade structures not only to shade the backyard but also to serve as stylish features in the landscape.
Here are eight creative ways for adding a cooling shaded area to your customer's outdoor space and boosting their outdoor style while you're at it.
1. Personalize the shade structure. Turn a ho-hum side yard into an inviting, protected destination by mounting a shade cloth to span the distance between the building and the property line. To make the covered area feel more personal, hang accents like a collection of lanterns, antique birdcages or plants dangling from macramé hangers.
2. Get a farmhouse look with a twig-covered pergola. Give simple wooden arbors more rustic charm by adding a woven lattice shade cover. In this backyard in Northern California's wine country, a lattice of willow branches topping a pergola ties the structure in with the modern-farmhouse style of the home and casts dappled shade over the seating area. Although less durable than willow branches, inexpensive bamboo screens can easily be repurposed as shade covers to add a similar woven texture.
3. Set a romantic, Mediterranean-style scene with a trellis dripping in vines. Sometimes the simplest shade structure paired with the right leafy climbers can be the most effective. Here, a slanted trellis made of widely set wooden poles supports a tangle of grapevines and a climbing rose, creating a romantic setting for an alfresco dining area.
Other trellis and vine pairings to consider:
A whitewashed wooden arbor with fragrant, white-flowering confederate jasmine (Trachelospermum jasminoides; USDA Zone 8)
A modern metal pergola with a chartreuse chocolate vine (Akebia quinata, zones 5 to 9)
A Spanish-style wood-and-stucco arbor with a vibrant bougainvillea (Bougainvillea , zones 9 to 11)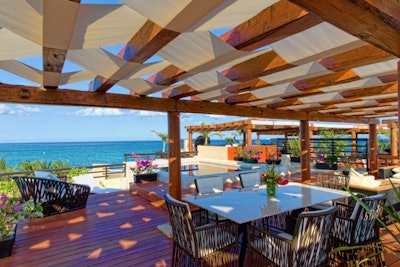 4. Go modern with a zigzag shade cloth. More often than not, we see shade sails stretched in flat sheets, casting a triangle of shade over a target area. Mix it up for a more contemporary look — and create a larger pool of shade — with multiple strips of shade cloth mounted in a zigzag pattern.
Here, the zigzag shade cloth covers a portion of a wraparound deck, shading the sliding doors to the living room and adding a graphic element to the entryway.
5. Set a nautical theme with a recycled sail. There are shade sails and then there are actual sails, repurposed to cast shade. For a fun, nautical look — and an instant conversation starter — try to get your hands on one of the latter. Boat sails need to be replaced once they become damaged, but they can have a second life casting shade over a terrace.
If you know any boat owners, they may give you a worn-out sail when they're upgrading to a new one. The mast and boom sides will already be fitted with grommets for easy hanging, but you will need to fix grommets to the outer edge of the sail in order to mount it to a rope and hang it above the patio.
6. Add a minimalist overhang. Keep the shade structure minimalist by using materials like metal or wood to construct a graphic, clean-lined design.
Play with where you can pare down design elements until you've reached a design that fulfills the utility of the job without overly fussy details. Does the shade ceiling need to extend to cover the entire trellis? Can you eliminate unnecessary posts or other supports?
For example, this contemporary prairie house in Minnesota has an elegant, minimalist shade structure that adds to, rather than distracts from, the clean lines of the home.
7. Give awnings a contemporary update. For a more modern look than your typical cloth awning hung above a window, consider unusual shapes and ways of hanging these go-to exterior shades. For example, in this San Diego home, five shade sails serve as a modern awning for the patio just off the living room. Mounted at regular intervals and hung to overlap each other, the triangular shades look almost like a line of sailboats or the white crests of waves.
8. Extend the roof's overhang. If your customer is also working on a home remodel, ask them to consider how they can create more shade over the porch, or a deck or patio right next to the home, to maximize use of their outdoor area. If space (and budget) allows, they may want to extend the overhang of the roof generously enough to shade an outdoor table, a pair of rocking chairs or a hanging porch swing.
To get a similar feel of a covered porch without undertaking a major remodel, build an arbor or trellis that echoes the architectural style of the home, and position it right up against the side of the house. Top the arbor with wood lattice or shade cloth — or plant leafy vines to twine up the sides — to create an inviting shady area just outside the doorstep.
EDITOR'S NOTE: This article was written by Lauren Dunec Hoang, a Houzz contributor. Hoang is a landscape designer and was previously a garden editor for Sunset Magazine and in-house designer for Sunset's Editorial Test Garden.