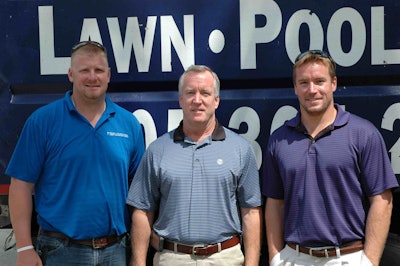 Previous Landscaper of the Year Finalist Reef Tropical Pool & Landscape has purchased a 12,000 square foot warehouse and office building on 2.2 acres in Florida City, Florida.
The Key Largo-based business has been in operation for over 20 years and serves both residential and commercial clients. It plans to expand its major operational departments of pool construction, pool repair, landscape maintenance, tree service and landscape installation.
Reef Tropical says it will continue to utilize its space in Ocean Reef Club on Key Largo for certain operational divisions and customer service and sales.
The company decided to expand operations to Florida City based on its need to grow beyond Monroe County into Miami-Dade County. Also, a majority of Reef Tropical's staff lives in Miami-Dade County, giving them a safer and easier commute to work.
The move will also allow human resources to recruit more workers, vendors and subcontractors to meet their customers' needs.
"This expansion symbolizes the dedication and sacrifices of our staff over the past 20 years," said Claude Kershner IV, president of Reef Tropical. "Ocean Reef Club is our home base and we will always have an office and a friendly face for our customers there. Yet, the Florida City location makes perfect sense for vehicle and equipment parking, delivers, storage, proximity to our staff and new team member recruitment."
Reef Tropical expects to be fully operational at the new building by Sept. 2017 and is already forging connections with local politicians and charitable organizations.
"We are so excited about this new building and what it means for our team," said Claude Kershner III, CEO of Reef Tropical. "We have a major opportunity to not only better service our customer base but also contribute toward the economy and betterment of Florida City. Our legacy at Reef Tropical lies in the people we serve which includes our staff, our community and our customers. This building will be a major stepping stone in Reef Tropical's quest to serve."
John Deere Turf Care celebrates 20-year anniversary
In honor of its 20-year anniversary, John Deere praised the achievements of its team at the Turf Care manufacturing facility based in Fuquay-Varina, North Carolina.
The 335,000-square foot facility was opened in 1997 to produce lightweight fairway mowers. Over the years it added on several new commercial and golf mowing innovations.
"Over the past 20 years, we've cultivated a team of professionals who take great pride in designing and manufacturing top quality products in the Turf Care facility," said Siva Sundaresan, factory manager and global director for commercial mowing and golf equipment at John Deere. "In addition to producing innovative equipment that is revolutionizing the golf and landscape industries, we are also proud to employ a team that is dedicated to bettering their local communities."
Turf Care employees have volunteered at charities such as United Way, Junior Achievement and Big Brothers Big Sisters. John Deere also celebrated 19 employees who have been at the facility since it first opened. The company applauded the facility for its dedication to employee safety.
"The safety of our team is key to our success," said Sundaresan. "Since opening the doors in 1997, Turf Care has received numerous operational achievements, including the NC STAR Certification, the National Safety Council Occupational Excellence Achievement Award and the NCDOL Certificate of Safety Achievement. Additionally, Turf Care boasts a 0.91 OSHA Recordable Rate over the past decade, compared to the industry average of 5.5, demonstrating our commitment to safety.
John Deere's Turf Care facility has introduced more that 15 products, including riding green mowers, ZTrack mowers, 700 Series front mowers and the ProGator UTV.
Case participates in 2017 Victory Garden Blitz
Case Construction Equipment and CNH Industrial donated at skid steer for the 9th Annual Victory Garden Blitz in Milwaukee, Wisconsin.
Case and CNH Industrial are one of the many partners of the Victory Garden Blitz and aside from financial sponsorship, the manufacturer also provided a SV2300 skid steer for the event.
Launched in 2009 by a group of friends, Victory Garden Initiative was started to encourage communities to grow their own food and re-establish the relationship between people and food ecology. The group built 35 raised garden beds in a single day back then and during this year's Blitz, over 300 volunteers installed 514 gardens.
"The nation's largest garden building event is a huge community effort," said Eric Anderson, Victory Garden Initiative community events coordinator. "All of the Blitz volunteers wouldn't be able to install over 500 gardens in such little time without the skid steer Case and CNH Industrial provided."
Last year the Initiative built a record-breaking 555 gardens in 15 days. Since the project's inception, the Milwaukee area has more than 3,500 gardens for communities. Each garden is 4 by 8 feet and includes new soil and seeds to begin growing.
"Giving back to our communities by way of promoting sustainable farming and local infrastructure improvement is important to Case Construction and CNH Industrial as a whole," said Athena Campos, senior director of marketing for Case. "The Victory Garden Initiative brings people closer together by helping the community grow its own food and reinforces our focus on sustainability."