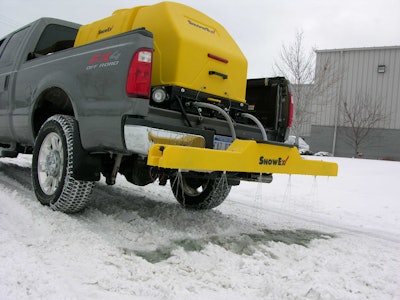 The dates and locations for the second "The Power of Salt Brine" training tour have been released.
Sponsored by SnowEx, the tour is an educational effort to provide contractors an opportunity to learn best practices for using liquids in their snow and ice management plan. According to Douglas Dynamics, Inc., companies that use liquid salt brine ice control programs are able to save tens of thousands of dollars in deicing costs.
The inaugural tour was held last summer in 18 North American cities. This year's program will cover how snow removal professionals can reduce costs by adding liquid technology to operations, sell liquid ice control strategies to customers, reduce potential liability by using liquid ice control and minimize the environmental impact of rock salt.
The training sessions will be led by Daniel Gilliland, training manager for SnowEx Liquid Solutions in North America and Pam Buckley, sustainability manager for Douglas Dynamics.
The dates and locations of The Power of Salt Brine Tour 2017 are listed below.
Aug. 8 – Bangor, Maine
Aug. 9 – Portland, Maine
Aug. 10 – Boston/Danvers, Massachusetts
Aug. 15 – Worcester, Massachusetts
Aug. 16 – Hartford, Connecticut
Aug. 17 – Hauppauge, New York
Aug. 18 – Newark, New Jersey
Aug. 22 – Davenport, Iowa
Aug. 23 – Madison/Milwaukee, Wisconsin
Aug. 24 – Aurora, Illinois
Aug. 29 – Toledo, Ohio
Aug. 30 – Columbus, Ohio
Aug. 31 – Pittsburgh, Pennsylvania
Sept. 13 – Burlington, Vermont
Sept. 14 – Ottawa, Ontario
Sept. 26 – Philadelphia, Pennsylvania
Sept. 27 – Syracuse, New York
Sept. 28 – Watertown, New York
For more information or to register for the even online, click here.
Hardscape North America Installer Championship registration is now open
Team registrations for the fifth annual Hardscape North America Installer Championship competition is now open.
The Hardscape North America Installer Championships will be held at HNA on Oct. 19-20, 2017, in Louisville, Kentucky. The competition is intended to test and recognize the skill and passion of hardscape contractors across North America.

The early bird registration fee is $150 and is available until Sept. 7, 2017. The fee will increase to $200 per team after this date.
Regional Installer Championships have and are taking place in Provo, Utah; Providence, Rhode Island; Indianapolis, Indiana; Keller, Texas; San Jose, California; and Lacey, Washington. Winners from each regional competition will advance to the final championship.
At the final competition, 24 teams will strive to display their knowledge of industry best practices while racing the clock and other challengers.
During the preliminaries, 24 teams will compete in six rounds constructing an 8' by 10' patio area in 60 minutes, which will require a seat wall, herringbone field, solider course, bedding sand, edge restraint and complete the initial paver compaction. The teams' scores will be based on completion, compliance to industry guidelines, safety, quality and craftsmanship.
The four teams with the highest preliminary round total scores will advance to the championship round. In the final round, the teams will have 90 minutes to complete their construction according to their own design. The score will be calculated on compliance with industry guidelines, safety, quality, craftsmanship and creativity.
The winner will receive a package valued at $10,000. It includes $1,000, an iQ360 14″ masonry saw with fully-integrated dust collection plus accessories, a Weber MT CF3 Pro forward plate compactor, their name engraved on the championship cup, a plaque and recognition in various media.
Second place will receive $400, an iQ360 14″ masonry saw with fully-integrated dust collection plus accessories, a plaque and media recognition. Third place will receive $100, a plaque and media recognition and fourth place will receive a plaque and media recognition.
In order to compete, each team member must be employed in the hardscape industry as a professional installer. Click here to download the registration form.
NALP introduces new online resource for members
The National Association of Landscape Professionals (NALP) has recently launched the NALP Community, which is an online forum for NALP members.
Users are encouraged to share ideas, discuss issues and build relationships in a non-competitive environment. Similar to Facebook and LinkedIn, users have a social platform to provide valuable resource with each other, but it is for NALP members only.
NALP members can join discussion groups on design/build, lawn care, landscape management, irrigation or interior plantscaping, or start their own topic. Click here and sign in with your NALP member log in and password.