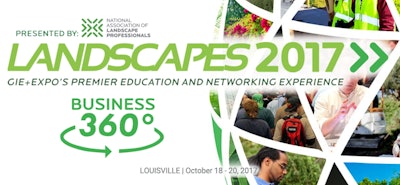 With GIE+EXPO drawing near, the National Association of Landscape Professionals (NALP) has announced the keynote speaker for LANDSCAPES 2017, its networking and educational conference that is held in conjunction with the trade show on Oct. 18-20 in Louisville, Kentucky.
The keynote speaker is NFL Pro Bowl quarterback Ron Jaworski and he will speak at the Opening Kick-Off event on Wednesday, Oct. 18, as well as take questions from the audience, sign autographs and take photos.
Jaworski "Jaws" played for the NFL for 17 years starting with the Los Angeles Rams as a second-round draft in 1973. After playing for the Rams, Jaworski went on to play for the Philadelphia Eagles in 1977 and helped the team advance to its first-ever Super Bowl berth against the Oakland Raiders in 1980.
After retiring from the NFL, Jaworski became an analyst on ESPN for Monday Night Football. He also started Jaws Youth Playbook, which focuses on improving the health and wellness of at-risk youth in the Greater Philadelphia area.
Jaworski has multiple business ventures, including Ron Jaworski Golf Management Inc., which he is the CEO of.
The keynote speech is included in registration for LANDSCAPES. For NALP members, the basic registration costs $299 and for non-members it costs $499 before Sept. 18. This registration also includes access to GIE+EXPO for both days and more than 40 education session opportunities. Attendees will also receive two nights of free concerts at 4th Street Live featuring Uncle Kracker and The Crashers.
Some of the other LANDSCAPES conference highlights include one-on-one mentoring with NALP Trailblazers, the Breakfast with Champions, an Account Manager Master Series and a CEO forum.
The educational sessions are also approved for Landscape Industry Certified recertification so attendees can earn one CEU per hour of instruction.
LANDSCAPES 2017 is sponsored by John Deere at the platinum level, followed by Caterpillar as a gold sponsor and Bayer as a silver sponsor.
For more information, click here or email Kelly@landscapeprofessional.org. To register for the event, click here.