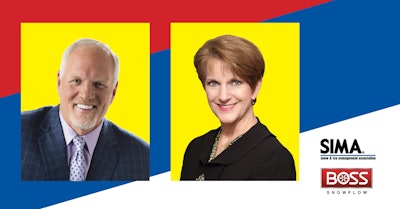 The Snow & Ice Management Association (SIMA) announced its new Season Opener: Building Your Snow Dream Team, which is sponsored by Boss Snowplow.
SIMA says that recruiting and retaining quality workers for winter snow removal operations is consistently cited as the No. 1 challenge for professional snow and ice management companies. With this problem in mind, SIMA wanted to address these challenges with this educational and networking event, which will be held Sept. 19-20 at the Hyatt Regency Inner Harbor in Baltimore, Maryland.
The cost is $275 for members, $375 for potential members and $50-off each additional team member who attends. The early bird deadline for the Season Opener ends Aug. 31. To learn more or register online, click here.
Focusing on real world solutions, expert insights to help companies start the snow season strong and peer engagement, the event will feature the following:
The event will kick off with former NBA All-Star and team-building expert Mark Eaton, who will share stories and lessons learned through his experiences with team dynamics. He will also facilitate a discussion on recruiting methods being used by some of the snow industry's most successful companies.
Attendees will participate in roundtable discussions to share experiences and tips for building snow careers.
The event will close with Gallup-certified strengths coach Leslie Boomer, who will provide tangible takeaways on how to develop talent in your snow organization. All registered attendees will receive a free StrengthsFinder assessment and access to a follow-up webinar on how to apply StrengthsFinder to their organization's employees for professional and personal achievement.
Attendees will also have the chance to network during a visit to Baltimore's Camden Yards to watch the Baltimore Orioles face off against the Boston Red Sox on Sept. 19.
"Talent acquisition and retention have become a challenge in the snow and ice removal industry," says SIMA CEO Martin Tirado. "This event will give attendees a strong base plan to recruit employees and help them develop their careers in the industry."
Hardscape North America 2017 exhibitors announce products
Hardscape North America (HNA) will host its 2017 trade show on Oct. 18-20 in Louisville, Kentucky, and HNA says that many new products will be available from hundreds of exhibitors. HNA's website now has a new products feature on the home page where new products from the exhibitors will be displayed and showcased continuously leading up to the trade show.
HNA is co-located with GIE+EXPO to comprise the 9th largest trade show in America. The two shows combined will offer more than 750 indoor and outdoor exhibits in the adjacent 20-acre demonstration area.
Brief overviews of products that will be featured at this year's show are listed below.
Belgard: Booth #20062
Belgard will feature several products that the company says blends contemporary and traditional styles. A few products that will be highlighted include Eco Dublin permeable pavers, Belair 2.0, the Melville plank and Moduline and Lafitt Grana.
Additionally, the booth will highlight Mirage's NooN, which is a porcelain paver product. Along with products, Belgard says it will also highlight the Belgard Authorized Contractor program and how it supports contractors with programs that focus on growing their business.
As a Metallic sponsor, Belgard will be sponsoring the HNS Dealer Program, the HNS Installer Championship and the HNA Project Awards.
Natural Paving USA: Booth #27034
Promenade Flagstone, a hand-cut sandstone paver, is available in calibrated square or rectangular sizes.
Optimas/Pathfinder: Booth #21034
Optimas says that the newest entry level line of mechanical paver laying equipment, the Optimas T-22, utilizes the company's proven paver clamp attached to an upgraded chassis design. The T-22, the company says, is designed to increase installation speed while reducing labor needs.
Warming Trends: Booth #24041
Warming Trends says its patent pending Crossfire Brass Burner utilizes cutting-edge technology to create a taller, fuller, brighter frame with twice the flame and half the gas.
County Materials Corporation: Booth #23034
Harmony Permeable Pavers, the company says, withstand heavy low speed vehicular loads and high pedestrian traffic. The company also says they are manufactured to easily accommodate mechanical installation, and units can also be installed by hand in many patterns.
NALP partnering with Harvest Group, introducing special summits day at LANDSCAPES 2017

The National Association of Landscape Professionals (NALP) will be partnering with The Harvest Group to bring the People Academy Live, a human resources workshop, to Costa Mesa, California, Nov. 14-16.
The goal of People Academy Live, according to NALP, is to help landscape and lawn care contractors grow their business, decrease liability, reduce stress and have a work/life balance.
"The biggest problem landscapers face each day is people — finding, recruiting, hiring, on boarding and keeping them — and that's why we created the People Academy Live," said Ed Laflamme.
The two-day facility tour and course will focus on creating a company culture and compliance structure, and it will provide strategies to recruit, develop staff and on board. The workshop will be taught by industry veterans from the Harvest Group: Laflamme, Bill Arman and Steve Cesare, Ph.D.
"People will benefit from the incredible knowledge of my partner Bill Arman, who was vice president of HR for The Valley Crest Companies, personally interviewing over 5,000 people and reviewed some 100,000 resumes, and Steve Cesare, who is without a doubt the country's leading expert in this field," Laflamme said.
To receive a discounted price of $895 for NALP members and $1,095 for non-members, register by Oct. 6. Attendees will receive a free copy of the Harvest Recruiting Kit.
The People Academy Live is approved for Landscape Industry Certified recertification at one CEU per hour of instruction attended.
NALP will also be introducing a day of special summits this year at the 2017 LANDSCAPES event, which will be held in conjunction with GIE+EXPO on Oct. 18-20 in Louisville, Kentucky.
These summits will be held on Wednesday, Oct. 18, at the Downtown Louisville Marriott. Attendees will choose one of the three day-long summits–landscape management, lawn care or design/build/installation–which will include four education sessions and a networking lunch.
The summits will also share case studies and strategies from top landscape contractors, and it will include education from industry consultants such as Jeffrey Scott, Phil Harwood, Real Green Systems, Bartlett Tree Experts and national experts from leading industry organizations like Houzz.
To sign up for these summits, click here. Prices for the 9 a.m. to 4 p.m. day of education are $189 for NALP members and $289 for non-members. On Sept. 18, prices will go up.
The Landscape Management Summit is sponsored by John Deere, the Design/Build/Installation Summit is sponsored by Caterpillar and the Lawn Care Summit is sponsored by UPG and LANDSCAPES 2017 is approved for Landscape Industry Certified recertification at one CEU per hour of instruction attended.
At the Platinum level, LANDSCAPES 2017 is sponsored by John Deere, with additional support by Caterpillar as Gold Sponsor and Bayer as Silver Sponsor.