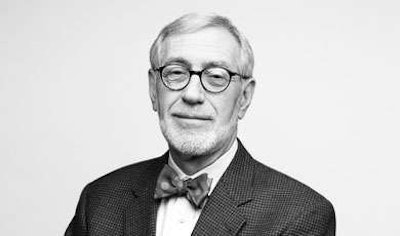 Laurie Olin, FASLA, will receive the 2017 Vincent Scully Prize from the National Building Museum. Olin is the founding principal of the Philadelphia-based OLIN studio, and he is a professor at the University of Pennsylvania.
"It is an unexpected great honor to receive this year's Vincent Scully [Prize] from the National Building Museum," said Olin. "It's widely known that in addition to educating generations of architects Scully encouraged thousands who weren't design students to look appreciatively at architecture and to care about the nature of the world we make."
While in college, Olin was mentored under Richard Haag. After earning his degree in architecture from the University of Washington in Seattle, Olin worked for offices in Seattle, London and New York City.
He became a professor at the University of Pennsylvania in 1976, where he offered design of environments courses. He became head chair of the landscape architecture program at Harvard University in 1986.
Olin has created award winning, people-centric landscapes in cities around the world. These include the grounds of the National Gallery of Art Sculpture Garden and the Washington Monument in Washington, D.C., and Bryant Park in New York City.
"Our office really believes that everything we do is really about people," Olin said in an interview with the American Society of Landscape Architects (ASLA). "But, we also believe that everything we do for people should be both environmentally supportive to them and the environment, and also be wonderful places to be either together or alone. We try to address the dilemmas of the individual and the group. We try to be open and accessible. We try to make things that are enduring and won't fall apart, and have lasting qualities. We also know that no matter what we do, everything that matters really does require maintenance. You have to make things people care enough about to want to maintain."
Olin's accomplishment will be celebrated at a public program on Oct. 16 from 6:30 p.m. to 8 p.m. at the National Building Museum. The program is entitled "Conversation with a Reflective Practitioner," and Olin will be joined by James Corner, founder and director of James Corner Field Operations.
Corner is a former student of Olin's, and later he became Olin's colleague at Harvard University.
"[Olin's] work has left (many) cities invaluably richer in terms of public space, civic pride and quality of life," Corner wrote in his nomination of Olin. "[He is] a prolific writer and thinker, advancing the history, theory and visibility of the field…all hallmarks of everything Vincent Scully deeply represented."
October's event will also feature a tribute to David M. Schwarz, who founded the Prize and acted as chair until last year. Selected by a jury, the Vincent Scully Prize recipient includes members such as Corner, Ellen Dunham-Jones, Maurice Cox, Elizabeth Plater-Zyberk and Blair Kamin.
"It was David's initiative to establish and fund the Building Museum's Vincent Scully Prize in honor of the teacher who inspired his work," said current chair Plater-Zyberk of Schwarz. "David understood that Scully's influence on two generations of architects and their clients and patrons in a particular historical period deserved recognition and remembrance."