System Pavers, Inc., a company that offers outdoor design and installation services, is marking its 25th year in business in 2017.
Since 1992, System Pavers has transformed over 65,000 outdoor living spaces for customers. The company got started when CEO Larry Green moved to Southern California after having success in the South African paver market. He partnered with president Doug Lueck, who brought his business experience in the industry to the company.
They share the common vision that customer service should be the highest priority and currently maintain a satisfaction rate of nearly 95 percent. The company started out installing paver driveways, walkways and pathways and now does elaborate custom outdoor remodels.
It has design centers in San Diego, Orange County, Los Angeles, Sacramento, Bay Area, Denver, Portland and Seattle.
Conserva Irrigation signs four new franchise agreements
Conserva Irrigation, an irrigation company that has recently been seeking franchise candidates to expand its national footprint, has added four new franchise agreements.
The company has a business model that targets the repair and maintenance of commercial and residential sprinkler systems. Conserva Irrigation was founded in 2010 by Russ Jundt after he was bothered by the amount of water wasted by traditional irrigation systems.
"Our differentiated business model of professionalizing the irrigation industry through a nationally branded company coupled with our focus on service plans as a consistent revenue stream is a proven method to success," said Jundt.
Jim Driscoll is now the owner of Conserva of Irrigation of Houston and Keith Ortega is the owner of Conserva Irrigation of Scottsdale. Husband and wife team Jeff and Toni Schuck are the owners of Conserva Irrigation of Lexington and another couple, Hoa and Natalie Nguyen, are now owners of Conserva Irrigation of North Richmond.
"We are excited to continue expanding the Conserva brand and offer qualified entrepreneurs nationwide an opportunity to capitalize on the growing demand for water efficient irrigation systems in order to preserve a limited natural resource," Jundt said.
The company is still looking to grow and is seeking single- and multi-unit operators with varying experience levels, along with seeking add-on business opportunities.
Those interested in the franchise should be willing to invest between $43,550 and $80,250. Conserva Irrigation is also offering incentives for veterans, multi-territory agreements or are an employee of an existing franchise.
For more information about this franchising opportunity, click here.
Karen Reardon honored for work on overturning Montgomery County pesticide rule
Karen Reardon, vice president of public affairs for Responsible Industry for a Sound Environment (RISE), was recently presented CropLife America's Chairman's Award.
The award is one of CropLife America's (CLA) highest honors and recognizes those within the CLA/RISE staff for exceptional service to member companies, the industry and association.
CLA president and CEO Jay Vroom gave the award to Reardon on Sept. 25 during the CLA annual meeting in Dana Point, California.
"Karen has shown exceptional dedication to her position and leadership within the entire pesticide industry, ag and non-ag alike," Vroom said. "She led our entire industry's successful effort to defend against the ban of pesticide use on private property in Montgomery County, Maryland. Karen's leadership of this multi-year effort resulted in one of the strongest legal rulings on behalf of this industry's most important issue – defense of preemption. This effort has and continues to be exceptional service to member companies, the industry and the association."
Reardon has been with RISE since 2006 and before that she served with CLA for 10 years.
EquipmentWatch announces Lowest Cost of Ownership Awards
EquipmentWatch, a company that specializes in data and insights for the heavy equipment industry, has announced the nominees of the first Lowest Cost of Ownership Awards.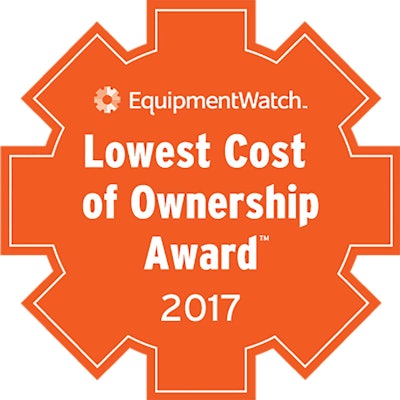 The awards are based on empirical data regarding the long-term cost of heavy equipment. Nominees are chosen from 15 categories of model series for the lowest cost of ownership over a five-year period.
Five-year total cost of ownership is calculated with Rental Rate Blue Book and EquipmentWatch's residual values and utilization benchmarking.
"There are two superlatives the heavy equipment industry looks at when it comes to optimal purchasing decisions – residual value and total cost of ownership," said Garrett Schemmel, vice president of EquipmentWatch. "Our Highest Retained Value Awards program addressed the former, but until now no one has provided buyers with objective, third-party information regarding true cost of ownership. As the FHWA endorsed and publicly recognized standard for ownership and operating cost data, this new award was a natural extension of our mission to help contractors make informed equipment decisions."
Below are the 2017 finalists:
Backhoes

Deere 310

Kubota B26

Deere 410

Caterpillar 420

Caterpillar 430

Loaders Compact Track

Bobcat MT55

Bobcat T110

Caterpillar 257

Caterpillar 287

Kubota SVL75

Dozers Track Large

Komatsu D85

Dresser TD20

Komatsu D275

Deere 950

Caterpillar D7

Skid Steer Loaders

Bobcat S70

Caterpillar 232

Deere 320

Gehl 4240

Komatsu SK714

Dozers Track Small

Caterpillar D3

Case 1150

Dressta TD10

Case 650

Deere 850

Loaders Wheel Large

Kawasaki 95

Hyundai HL780

Case 1221

Komatsu WA480

Deere 824

Drum Compactors

Sakai SV201

Dynapac CA141

Dynapac CA121

Volvo SD45

Hamm 3205

Loaders Wheel Medium

Komatsu WA320

Terex TL210

Caterpillar 938

Case 821

Deere 624

Excavators Compact

JCB 8018

Yanmar VIO17

Case CX27

Kubota KX71

New Holland E27

Loaders Wheel Small

Terex TL65

JCB 407

JCB 406

Yanmar V4

Caterpillar 907

Excavator Crawler Large

Case CX700

Link-Belt 700

Caterpillar 374

Komatsu PC800

Caterpillar 390

Motor Graders

Mauldin MG618

Mauldin MG622

Deere 772

Deere 672

Caterpillar 140

Excavators Crawler Medium

Doosan DX300

Doosan DX350

Komatsu PC290

Volvo ECR305

Deere 290

Rear Dumps

Deere 300

Komatsu HM300

Caterpillar 725

Caterpillar 730

Komatsu HM400

Excavators Crawler Small

Caterpillar 311

Bobcat E85

Kubota KX080

Caterpillar 312

Case CX80
The Lowest Cost of Ownership Award winners will be announced at EquipmentWatch's first annual customer conference, Traction: The Data-Driven Heavy Equipment Conference in Atlanta, Georgia. The conference is Nov. 7-8 and the award winners will take place on Nov. 8 at 12 p.m.
EnP names Jim Miller as business development manager
Jim Miller has been hired as business development manager for EnP, a specialty fertilizer manufacturer based in Illinois.
Miller will be responsible for spreading the distribution of the Foliar-Pak product line through developing the application of Armament technology within the industry.
"We're excited to have Jim on the team," said George Murray, EnP president. "As our new business development manager, he will be instrumental in the growth of our distribution in key markets, while also helping us manage the commercialization of new technologies for turf, ornamentals, seed and granular fertilizer."
Miller has a background in product development, promotion, sales and distribution. He previously worked for Aqua Aid, Inc. and Verde-Cal.
"EnP is the innovative force in our industry and is leading the way in L-amino acid science," Miller said. "I am glad to be a part of this industry research."