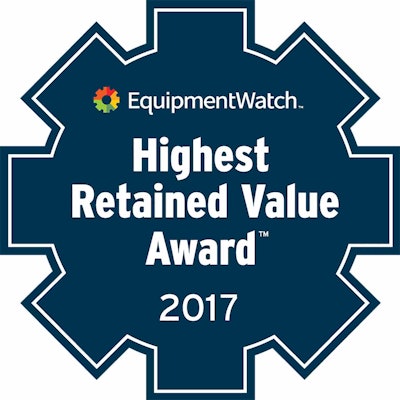 The winners of EquipmentWatch's second annual Highest Retained Value Award were declared, with 28 categories total.
EquipmentWatch is a heavy equipment database that offers intelligence on the purchase, valuation, operation and disposal equipment. Its analysts looked at the most popular equipment series observed on the resale channel in 2016 and then removed any series that do not currently have a model in production.
Only equipment series with at least one model contained in the EquipmentWatch Residual Values application were considered. Six of the top series were chosen as finalists with no category containing more than two equipment series from the same manufacturer.
EquipmentWatch calculated the residual values by using the fair market value and forced liquidation value to determine year over year depreciation for over 12,000 models. Using a proprietary algorithm, it estimated residual values up to 84 months into the future.
The winners were the model/series that was projected to retain the highest percentage of its original value after five years.
Caterpillar and John Deere tied for the most honors in 2017 with four a piece. Caterpillar now has nine awards over John Deere's eight since the program began in 2016.
Even though larger brands mostly dominated, certain specialized manufacturers like Bomag, Challenger, and Hyundai were able to stand out with greater retained value than their competition.
"For purchasers of equipment, there is perhaps no single measurement more influential in the buying decision process," said Garrett Schemmel, vice president of EquipmentWatch. "The residual value of an asset will have a significant impact on leasing terms and lifetime ownership costs. Informed buyers do well to weigh value retention heavily when considering equipment acquisition.
Only five of the series maintained their dominance from the previous year, including Apache's self-propelled sprayers, CASE's backhoes, Gehl's small skid steer loaders, JLG's articulating boom lift and SkyTrak's telehandlers.
"The Highest Retained Value Award is indicative of excellence across a manufacturing organization," Schemmel said. "Product quality has the most obvious impact on an asset's performance on the secondary market, but residual values are also highly impacted by brand affinity and fair original pricing. A manufacturer must excel on all three fronts to gain recognition as a Highest Retained Value Award winner."
Below is the full list of winners.
| | |
| --- | --- |
| Award Category | Make/Model Series |
| Backhoe Loaders | Case 580 |
| Balers | New Holland BR |
| Boom Lift, Articulating | JLG A |
| Boom Lift, Telescopic | Haulotte HB |
| Combines | Case IH Axial-Flow 140 |
| Dozers, Track, Large | Deere 850 |
| Dozers, Track, Small | Deere 700 |
| Drum Compactors | Bomag BW211 |
| Electric Scissor Lifts | Custom Equipment HB |
| Excavators, Crawler, Large | Caterpillar 349 |
| Excavators, Crawler, Medium | Volvo EC350 |
| Excavators, Crawler, Small | Bobcat E85 |
| Excavators, Compact | Volvo EC35 |
| I.C. Scissor Lifts | JLG RT |
| Lift Trucks, Telehandlers | SkyTrak Telehandler |
| Lift Trucks, Warehouse/Narrow Aisle | Komatsu BX |
| Loaders, Compact Track | Kubota SVL90 |
| Loaders, Skid Steer, Large | Caterpillar 262 |
| Loaders, Skid Steer, Small | Gehl 4240 |
| Loaders, Wheel, Large | Caterpillar 980 |
| Loaders, Wheel, Medium | Komatsu WA320 |
| Loaders, Wheel, Small | Hyundai HL740 |
| Motor Graders | Komatsu GD655 |
| Rear Dumps | Caterpillar 740 |
| Sprayers, Self-Propelled | Apache AS |
| Tractors, Track | Challenger MT800 |
| Tractors, Wheel, Large | Deere 8R |
| Tractors, Wheel, Small | Deere 5E |