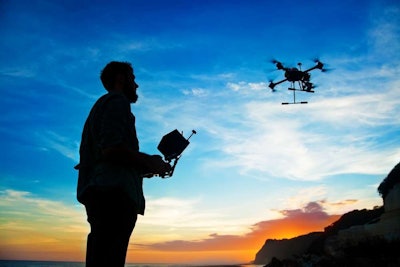 Drones have really made a name for themselves in many industries, but people are still expressing rising concerns regarding safety and privacy.
Many people feel that their privacy is being invaded when it comes to drones hovering overhead, because civilians believe these devices can easily allow the operator to "spy" on them with little to no effort.
With this in mind, experts at Clemson and Duke have developed technology that can detect and deter drone activity, but it has proved too expensive for smaller organizations.
With the knowledge that there is a growing need for more affordable options, the National Science Foundation has awarded Clemson and Duke universities a $750,000, three-year grant to create a more economical solution for public spaces.
To help provide expertise on how to best design drone-deterring structures so there will be minimal impact on the aesthetical composition of outdoor environments, Hala Nassar, a landscape architecture professor in Clemson's College of Architecture, Arts and Humanities, will serve as the university's principal investigator (PI), and Robert Hewitt, an associate professor of landscape architecture, will serve as the co-PI.
"When people are enjoying a public space, the last thing they want to see is industrial-looking features," Nassar told The Newsstand. "The design question then becomes how do we provide users with a sense of safety and privacy while preserving the natural character of the outdoor space. We're looking forward to answering that question with Duke and developing state-of-the-art designs that will allow for passive countermeasures of drones nationwide."
Leading the research efforts for Duke will be Mary "Missy" Cummings, mechanical engineering and materials science professor and director of the Humans and Autonomy Laboratory.
"Public space managers don't often have the budget for expensive active drone countermeasures," Cummings told The Newsstand. "If strategically placed shade canopies and trees or directed lighting can achieve the same results, we want to let people know how best to use them."
According to The Newsstand, there are currently more than 600,000 drones registered with the U.S. Federal Aviation Administration (FAA), and it's very likely that there are many more unregistered ones.
The FFA anticipates that drone sales will rise from 2.5 million in 2016 to 7 million in 2020, which will likely cause an increase in drones appearing in public places.
"The innovative research being done by Clemson landscape architecture professors Hala and Robert will help preserve and enrich the experience of public spaces for years to come," Richard Goodstein, dean of the College of Architecture, Arts and Humanities, told The Newsstand. "We are grateful for the partnership with Duke and the support of the National Science Foundation as we address the modern challenge of drones."
Keep in mind
Before flying drones outdoors, they must be registered. Since Dec. 21, drones must be registered with the Federal Aviation Administration's Unmanned Aircraft System if the aircraft weighs more than 0.55 pounds but less than 55 pounds. For those who do not register their drones, there is the possibility of facing civil and criminal penalties.
Owners must provide his or her name, email and home address when registering, and once registration is complete, the online application will generate a Certificate of Aircraft Registration/Proof of Ownership that will include a unique identification number for the owner.
According to FAA, there are three ways to fly a unmanned aerial system (UAS) for business: following the requirements in the Small UAS rule, following the rules in your Section 333 grant of exemption or obtaining an airworthiness certificate for the aircraft.
There are other rules and regulations that go along with drone usage, such as not flying them within five miles of an airport or helipad without filing a request to do so, and not flying them over crowds of people. Flying drones after sunset and sunrise is also prohibited, and they must stay within the line of sight of the operator at all times.