The Los Angeles Department of Water and Power and Mayor Eric Garcetti are raising the turf rebate from $1.75 to $2 per square foot in an effort to encourage Angelenos to replace turf with sustainable landscaping.
Applications for the rebate are available on the SoCal Water $mart website, and the raised rebate will be available until December 31.
The rebate is part of LADWP's California Friendly Landscape Incentive Program, which the organization says incentivizes residents to replace water-wasting lawns with landscapes that include plants native to Los Angeles, a rain capturing element and groundcover like mulch to help retain moisture in the soil.
"[S]ince 2009, Angelenos have removed nearly 50 million square feet of grass, yielding about 2 billion gallons in annual water savings," LADWP General Manager David H. Wright said in a statement.
The mayor's office states that the goal of the rebate extension is to continue the trend of removing grass and turn sustainable landscaping into the "new normal."
The program is a component of the mayor's Save the Drop initiative, which the office says offers rebates and incentives for making residential homes more sustainable. Not only does the program offer a rebate for removing turf, it also offers rebates on water efficient toilets and gives out free low-flow shower heads to LADWP customers.
"Now, it's time to double down by removing thirsty grass from our yards, and finding new ways to Save the Drop," Mayor Garcetti said in a statement.
Those in Los Angeles successfully cut their water usage by 20 percent, which was the initial goal of Mayor Garcetti. He now hopes efforts like the rebate program will contribute to the Sustainable City pLAn, which is the city's primary roadmap for implementing sustainable environmental, housing, economic policies and transportation.
ASLA releases statement on Clean Power Plan repeal
In response to U.S. Environmental Protection Agency (EPA) Administrator Scott Pruitt's recent announcement to repeal the Clean Power Plan, the following statement was released by Nancy Somerville, Hon. ASLA, executive president and CEO of the American Society of Landscape Architects (ASLA):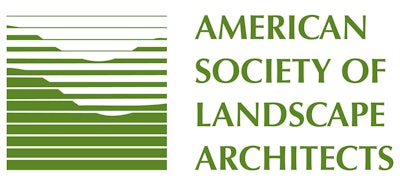 "ASLA is extremely disappointed in Pruitt's decision to repeal the Clean Power Plan, which was projected to cut U.S. carbon emissions 32 percent by 2030," she said. "It comes at a time when American communities are bearing the destructive effects of climate change, with ravaging wildfires in the West, disastrous hurricanes in Florida, Texas, other Gulf Coast states and in the U.S. territories of the Virgin Islands and Puerto Rico."
Somerville stated that these catastrophic events are costing the nation billions of dollars but also are causing infrastructure damage, which she says is imperiling human health and well-being, and destroying fragile ecosystems.
"While Pruitt's announcement is devastating, it is not surprising," Somerville said. "Since taking office in January, this administration has taken several steps to roll back critical environmental and climate change policies. However, ASLA continues to fight for federal, state and local programs and policies that allow landscape architects to use sustainable design techniques to help communities become healthy, resilient and climate smart."
Somerville stated that ASLA recently convened a Blue Ribbon Panel of design and planning experts to develop a set of policy recommendations for adapting to and mitigating climate change through resilient design. She added that the panel will publicly present its findings and policy recommendations in the form of a report in January 2018.
"With the repeal of the Clean Power Plan, the EPA must soon go through a full notice and comment period on the plan—I hope that all landscape architects and others interested in protecting our communities from the damaging impacts of climate change will join ASLA in weighing in on this critical issue," she said.
Toro recognized with 2017 EPA WaterSense Excellence Award
The U.S. Environmental Protection Agency (EPA) recently recognized The Toro Company with the 2017 WaterSense Excellence Award for its contributions to the WaterSense program and furthering efforts in water efficiency in 2016.

The award was presented to Toro at the WaterSmart Innovations Conference and Exposition in Las Vegas.
The EPA says that over the past decade, Toro and nearly 2,000 other WaterSense partners have helped consumers save more than 2.1 trillion gallons of water, or more than the amount used by all households in the U.S. for 75 days.
Along with water savings, WaterSense labeled home and products that have helped reduce the amount of energy needed to pump, heat and treat water by 284 billion kilowatt hours and save $46.3 billion in energy and water bills.
"Since 2006, utilities, manufacturers, retailers, builders, communities, states and other organizations have voluntarily supported the WaterSense program's efforts to protect and preserve our nation's water supply for future generations," said WaterSense Program Manager Veronica Blette. "By saving water together, these award winners and all of our partners help consumers and businesses realize the environmental and economic benefits of water efficiency."
Toro became a partner with the EPA WaterSense in 2014, and it was recognized as Manufacturer Partner of the Year in 2015. Toro has been recognized for the past two years for Excellence in Education and Outreach efforts to support product training and outdoor water efficiency education for homeowners, businesses and irrigation professionals.
Toro said that as a sponsor of the Irrigation Association's E3 Program, which educates students and faculty and provides hands-on experience, it has helped provide student scholarships to attend the Irrigation Association Show. Here individuals can receive demonstrations of the latest outdoor water conservation products.
Toro said it also participated in or conducted training events for thousands of homeowners and contractors, featuring its WaterSense labeled controllers.
In 2016, Toro said it also continued sponsorship of The Water Zone, a weekly radio program that covers outdoor water use best practices and reaches a Southern California audience of nearly 5 million people.
"Toro is committed to developing innovative irrigation solutions and outreach efforts to help our customers efficiently use water," said Phil Burkart, vice president of The Toro Company's irrigation and lighting businesses. "We are proud to have our efforts recognized again by the Environmental Protection Agency."