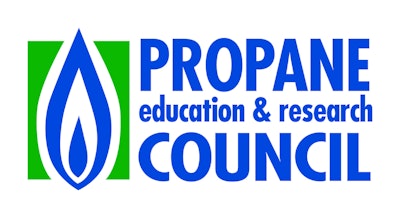 During the 2017 GIE+EXPO, the Propane Education & Research Council (PERC) announced the winners of its Propane Leadership Award.
PERC recognized Louisiana landscape contractor Rotolo Consulting, Inc. and Pennsylvania dealer R.S. Hollinger & Son, Inc. with the second annual award.
Both Brandt Martin with RCI and Lynn Hollinger with R.S. Hollinger & Son, Inc. each received a personalized Louisville Slugger baseball bat to commemorate the award.
"We're excited to announce RCI and R.S. Hollinger & Son, Inc. as the recipients of this year's Propane Leadership Award," said Jeremy Wishart, deputy director of business development for PERC. "Both businesses have helped bring awareness of propane mowers into their communities, and share the benefits of clean fuel with their customers. They did the research on propane and understood the positive impact it could have on their business, both financially and environmentally."
At the tradeshow, PERC encouraged contractors to "round the bases" and learn how easy it is to transition to a propane-powered fleet. The organization is also continuing with its incentive program going into 2018.
The program was started in 2012 and helps landscapers offset the cost of purchasing a new propane unit by letting them save up to $1,000. Those that purchase a new propane mower can receive up to $1,000, and those who opt for conversion kits can receive $500.
According to Wishart, this covers at least half of the conversion costs and PERC has seen a good amount of participation with the incentive program in September and October has been the same.
PERC's recent education efforts have not returned void as many of the landscape contractors who visited the booth were ready to make the switch.
"Fuel speculation for gas is supposed to go up in the next year," Wishart said. "We've got to be ready as an industry to have the right equipment in place. Propane and other alternative fuels are in a really good spot right now."
The number of propane equipment dealers is on the rise as well as manufacturers develop their own propane-powered models. Since PERC introduced its Propane Equipment Dealer Point in summer 2016, nearly 500 outdoor power equipment dealers have been added to the free, searchable database.
"That so many applications were submitted in such a short time shows that dealers see the value of being listed in the database as a way to drive more customers through their doors while differentiating their product offerings from the surrounding competition," Wishart said. "Plus, contractors now have a way to easily find a local dealer who can provide real details about propane equipment and partner with them on the path to fleet conversion."
In 2016, more than 60 percent of dealers surveyed by PERC said they expected to offer propane equipment in the next three years.
"It's no longer fear of the unknown, it's fear of change," Wishart said of the landscapers still skeptical of propane.
He said that generally after one landscaper blazed the trail by being the first in a town to use propane, it was a domino effect as others followed suit.