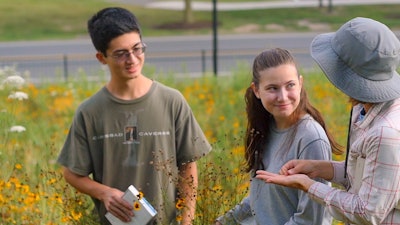 At Rutgers University in New Brunswick, New Jersey, landscape architecture students and faculty worked together to create a garden that transitions into a meadow that now serves as an outdoor classroom.
This garden is another one of Rutgers' living laboratories, which utilizes the campus landscape and facilities to demonstrate sustainable practices, such as rain gardens and solar panels.
Twenty-five landscape architecture planting design students worked on designing and installing the meadow transition that is located in front of the Institute for Food, Nutrition and Health (IFNH).
The garden includes native plants that complement those already growing in the meadow and are planted in large drifts to offset the more seasonal meadow plants. Semicircles of turfgrass were also planted in strategic locations for observing pollinators.
Students in the Planting Design class were able to put their knowledge to the test by selecting species based on seasonal interest and color, plant heights and textures, hydrology, plant competition and wildlife needs.
The students also worked with grounds operations staff Pat Harrity and Tony Sgro to successfully incorporate the project into the campus landscape. Over 400 plants were laid out and adjust prior to planting. Harrity and Sgro provided equipment and personnel support during the project.
The living lab serves to encourage interdisciplinary interactions. Plant biology and turfgrass program professor Jim Murphy educated the landscape architecture students on selecting turf varieties and installation. Fine fescue, tall fescue and Kentucky bluegrass mixes are all used in the turfgrass lookouts.
Over the summer, interns monitored changes in the meadow over time and next year's Planting Design class will assess the design's success along with plant survival and weed growth in plots that had different soil prep protocols.
Some of the experiments that will be conducted include weed and nutrient control to find the best management protocols for the support of the meadow transition.
Check out the video below to hear why students prefer this hands-on approach.