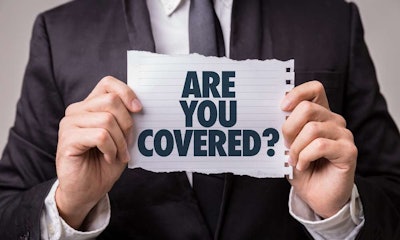 There are many aspects that come into play when running a successful landscaping business, but one that might occasionally get pushed to the wayside is choosing the right insurance coverage.
We've discussed the importance of choosing the right kind of insurance for your business, what goes into that decision and more along those lines, but now let's take a look at one particular type of insurance that consistently is overlooked in the green industry: errors and omissions (E&O) insurance.
For general information regarding insurance policies, coverage and more, click here.
What is E&O insurance?
E&O insurance is a form of business liability insurance coverage for those who are provided professional services. Errors and omissions, also known as mistakes, can cause financial harm and can happen on almost any transaction in any profession.
Having this form of insurance helps protect individuals, companies and other professionals from having to take on the full cost of defense for lawsuits that relate to errors or omissions when providing professional services. This comes into play if a client holds the company/individual/professional responsible for errors or for failure to complete the work as promised in a contract.
According to experts at Hortica.com, E&O insurance is especially important for those in the green industry and for those who regularly put their business interests at risk while providing their services.
Many commercial general liability insurance policies, according to Hortica.com, don't include E&O coverage; if they do, the amount is not very large. The risk is great for those who do not have E&O insurance, and it is not something new to the market either.
Why do I need it?
No one plans to make mistakes; they ultimately just end up happening sometimes. Much like doctors have malpractice insurance in their profession, E&O insurance is important for those practicing in the green industry.
Imagine for a moment that you accidentally cut down the wrong tree while working on a project. While this isn't the most unforgivable act a landscaper can commit, it still warrants reparation.
Accidents such as these can be covered by E&O insurance, which puts your mind at ease when walking onto a jobsite.
Other instances that could land you in hot water if you don't have E&O insurance are the mishandling of herbicides and pesticides, giving bad advice, using faulty products or gaps in coverage.
Things can always be subject to change when it comes to landscape design, and sometimes oversights, unforeseen circumstances or quick decisions can result in damage to structures and plant life on the property.
Sometimes the issue is caused by careless mistakes, but you will be the one at risk of having to accept the blame. If some sod gets overfertilized by the distributor and ends up dying a few days after you've installed it, you will be the one receiving the phone call to replace the sod. With this E&O insurance in your back pocket, the replacement products won't end up costing your company thousands of dollars.
Many may think that their general liability policies will cover some of these problems, and depending on the circumstance you could be correct. According to Cavallo & Signoriello Insurance Agency, expenses associated with having to re-do a project are typically not covered in general liability coverage.
Some policies like this, the agency says, carry a professional services exclusion that will put reconstruction expenses back on the landscapers.
When it comes to E&O insurance coverage, be sure to do your research on the subject before writing it off as something that's unimportant for your company.