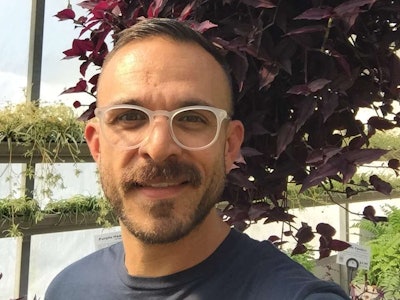 Total Landscape Care has selected the winner of the TLC Scholarship Contest for the upcoming spring semester.
Ernesto Lopez, an incoming sophomore at Joliet Junior College, will be awarded $2,500, which will be paid to his college on his behalf.
Lopez is different from the majority of students as he is returning to school after a 16-year hiatus, but he has had an interest in landscaping since he was a child gardening with his grandfather.
"Winning the scholarship for me means a great deal to me," he said. "When you take that leap of faith to go back to school later in life, there are many uncertainties such as, 'Am I making the right choice to go back to school?' Winning this scholarship proves that it is a great decision to further my knowledge and skills in landscaping to help mold me into a better person."
During the Great Recession in 2008, Lopez's work in the fashion industry in New York drew to a close. However, a friend of a friend's connection landed him a job working at Blue in Green Gardens, a garden design company based in Brooklyn.
"With Blue in Green Gardens, I would help out doing new garden installs and maintenance throughout NYC," Lopez said. "That is when the gardening bug bit back. It was great getting my hands dirty and helping create a small patch of green in such a concrete city. I would then spend the next five years with them and become their garden manager."
Lopez has gone on to work for several other garden centers in various cities including Los Angeles and Chicago. Over the past eight years he has gathered experience in urban gardening, landscape design, container gardening, outdoor holiday display and residential design/maintenance.
Despite all the of knowledge his hands-on experience has given him, Lopez didn't want to rely on this alone.
"I saw the need for a deeper knowledge in these areas was growing," he wrote in his application. "I knew that taking my career to the next level would require formal education, which led me to enroll in the Landscape Contracting program at Joliet Junior College. This has proven to be an incredible experience so far."
Lopez chose Joliet Junior College after deciding to move back home to the Chicago area. The great horticulture program coupled with the proximity to Chicago made it ideal for Lopez.
"I knew I would get hands-on experience at JJC with their facilities, and classes would be on the smaller size being at a junior college level," Lopez said. "Being in smaller classes, we pretty much all know each other and it more feels like a second family and have so much fun in classes."
Post-graduation, Lopez says he may work for another company putting his skills to good use, but ultimately wants to open his own garden design/nursery in Chicago.
"I want to be able to create exciting and inspiring experiences and landscapes for clients, so they too can share the joy that gardening and plants have brought me," he wrote in his application. "Whether working with a limited space or budget, everyone should be able to experience the beauty of nature."
For those interested in applying for the fall semester scholarship of $2,500, click here to fill out your application by July 11.