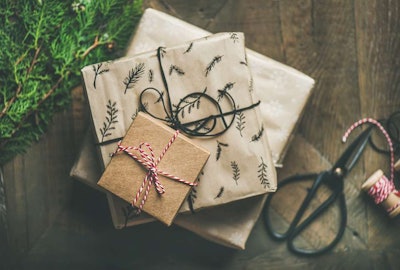 Just as Santa would be nothing without his elves, you would not be where you are today without your loyal team of employees.
Christmas can be an opportune time for you to express your gratitude to your staff, so here are some popular options you can consider when you start thinking of gifts to give. Remember these presents are a mere token of your appreciation, so don't feel like you need to break the bank in order to let your employees know they are valued.
Food
Like a majority of people, employees aren't going to turn down free food. How you decide to distribute this can vary in form. You could host a Christmas dinner one night for crew members and their families, or you can get them gift baskets of a holiday treat or a useful ingredient.
"I don't want or need any more do-dads," one respondent told Inc.com. "Food is good – a nice bottle of olive oil, a good bottle of balsamic vinegar, anything that can be used and enjoyed and then gone!"
Tech
Depending on your budget and the number of employees you have to buy Christmas presents for, you can give them the helpful gift of technology. Gifts are far more appreciated when they have a practical purpose and a techy splurge can be quite a surprise for some.
Items like noise-canceling headphones can make working on the jobsite more tolerable, while an Echo Dot or another similar item that employees wouldn't buy for themselves but would enjoy are some possibilities.
Personalized presents
If you have a smaller workforce and happen to know each of them well enough, you can get them a present that would speak to each personally. Be careful with this one as it can show which employees you know the least if you end up getting them a gift that doesn't suit them as well as you thought.
The other option is to simply have a handy item like a blanket or a mug personalized so the gift is unique to each employee.
Gift cards
While some see giving money as impersonal or lazy, it really can meet a need. By giving your employees money, they can choose their own gifts that suit them best, and often it can benefit their families as well if it is a gift card to a restaurant or a grocery store.
Gift cards also let your workers spend money on a treat for themselves and/or their family without feeling guilty about how they should have spent it if it was cash or some extra money tacked on to their paycheck.
Time
The only thing that your employees want more than money is simply time off to enjoy being with their family. Giving the gift of time provides an opportunity for your staff to relax and recharge before the start of the new year.
Whatever gift you end up choosing, it truly is the thought that counts.