At the recent annual meeting held during Green & Growin' 18 in Greensboro, North Carolina, the membership of the North Carolina Nursery & Landscape Association (NCNLA) elected two industry professionals to serve three-year terms on the NCNLA board of directors.
Leslie Herndon was elected the vice president of operations and is a 16-year employee of Greenspaces Inc. in Holly Springs, North Carolina, where she began her career as a floriculture technician.
Currently, NCNLA says she manages the operations and customer service/sales teams in her new position. Herndon is a North Carolina native and joined the Greenscape Inc. team after graduating from NC State University with a Bachelor of Science degree in landscape horticulture and minors in business management and botany.
NCNLA says Herndon holds professional designations as both a North Carolina Certified Plant Professional and an NALP Landscape Industry Certified Manager. Previously, she worked for Turtle Creek Nursery and as a retail garden center employee part-time while in high school and college.
NCNLA says she has a passion for flowers and also currently designs the living walls that Greenscape installs and maintains for customers.
Jeff Allegood was elected the general manager of Old Courthouse Nursery, which is a 40-acre container nursery in Warsaw, North Carolina. A Greenville, North Carolina, native, NCNLA says Allegood's first job was working in the cornfields of the eastern part of the state at the age of 15.
Throughout high school and college, he did landscaping and retail nursery work, and he later graduated from NC State University with a Bachelor of Science in forest management.
The group says Allegood is a recipient of both NCNLA's Bill Wilder Outstanding Young Nursery Professional Award (2013) and the Southern Nursery Association's David E. Laird, Sr. Memorial Award (2015). The group says he has also served as past president of the Johnston County Nursery Marketing Association.
Ruppert Landscape announces promotions
Ruppert Landscape recently announced the promotion of Mike Monde to the newly created position of director of culture and procedures within the landscape management division, and the promotion of Tim Schofield to the position of branch manager in the King of Prussia, Pennsylvania, landscape management branch.
"One of the greatest challenges we face as the company continues to grow is that the culture that has made us successful thus far will become harder to maintain," said Tom Barry, president of the landscape management division. "In his new role, Mike will leverage his wealth of experience to ensure that our culture, our commitment to our people and customers and the quality of our work remains as strong as ever."
The company says that Monde has over 25 years of landscape industry experience and also holds a degree in business administration from Delaware Valley College. Monde has served with the company for over 18 years, and Ruppert says he was instrumental in building the company's operations in Pennsylvania leading up to the sale of the company in 1998.
When Ruppert returned to the industry in 2003, Monde rejoined as a partner in the business and branch manager in the Pennsylvania branch. Over the next decade, the company says Mike and his team built the Toughkenamon, Pennsylvania, branch into a successful full-scale operation.
The branch team split in 2014 to form the King of Prussia branch, and Ruppert adds that Monde successfully transitioned leadership of the Toughkenamon branch to Garth Jorgensen.
"Mike possesses extensive operational knowledge, incredible work ethic and leadership skills and a willingness to help others succeed, which makes him well-suited to tackle the myriad challenges that this new role will present," said Barry.
In his new position, the company says Monde will report to the division president and focus on leadership development training, job quality inspections, mentorship, new facility setup, recruiting and facilitating Field Day events.
Now serving as the branch manager for the King of Prussia branch, Schofield will be responsible for the overall welfare of the King of Prussia branch, including the safety and development of his team, strategic planning and budgeting, training and day-to-day operations.
Schofield holds a bachelor's degree from the University of Delaware, where he triple-majored in food and agribusiness marketing and management, landscape horticulture and design and agriculture and natural resources.
In early 2015, he began his career with Ruppert as a field manager in the Laytonsville landscape management branch, where he was promoted to area manager. In this position, the company says he earned their Branch Impact Award in 2016 for his contributions and dedication to the branch.
He was promoted in 2017 to financial analyst for the landscape management division.
"While Tim only held the financial analyst position for a little under half a year, he has had a meaningful impact on the division, tackling a number of process improvement projects and gaining in-depth exposure to budgeting, sales tracking, accounting and payroll processes, training initiatives and more," said Barry. "We believe that Tim's operational and corporate experience has allowed him to develop a wide range of skills that have positioned him well for success in his new role."
NALP awards Woman Entrepreneur of the Year and Lifetime Leadership Award
At its executive-level conference, Leaders Forum, in Punta Cana, the National Association of Landscape Professionals (NALP) presented its Woman Entrepreneur of the Year Award to Jennifer Lemcke, COO of Weed Man USA.
NALP says Lemcke has served on its board of directors as well as numerous committees. She has been with Weed Man for more than 25 years, working alongside her husband Chris and father Roger Mongeon, CEO of Weed Man.
NALP says Lemcke has been instrumental in the growth of the franchising of the company in the United States, recently reaching the $100 million milestone.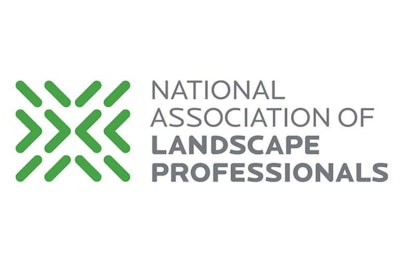 "Jenn is a great friend and supporter of the industry," said NALP CEO Sabeena Hickman, CAE. "She is a role model for other women in the industry and we are very proud to honor her with this award."
NALP says this award recognizes an outstanding female entrepreneur in the industry who has demonstrated entrepreneurial spirit and initiative, who contributes to the advancement of the industry through her actions and endeavors and serves as an example to current and future female entrepreneurs in the industry.
Frank Mariani, CEO of Mariani Landscape of Lake Bluff, Illinois, was recently presented the NALP Lifetime Leadership Award.
Currently serving on the NALP board of directors and the board of directors of its foundation, NALP says Mariani is a mentor to many in the industry. He also serves as an NALP Trailblazer and co-hosts the NALP Field Trip with Frank and Marty.
Frank is the second generation to run the family-owned Mariani Landscape, which NALP notes is the first landscape company to be approved to the ISO 9001 Quality Standard. This, NALP says, involves an implementation of a specific Quality Management System for all areas of the business including facilities, people, training, services and equipment.
"Frank has served the industry with great energy and passion; mentoring younger professionals and working to build the industry through the Industry Growth Initiative," Hickman said. "We are proud to honor Frank with this award and to share his story."
NALP says the Lifetime Leadership Award is presented annually to a member of the association who has demonstrated leadership, service and commitment to both NALP and the landscape industry. They add that it honors individuals who have improved the landscape industry and inspired others.
Henkel Denmark acquired by multistate landscaping firm
Henkel Denmark, Lexington landscape design and maintenance firm, was acquired by Landscape Workshop, a full-service grounds management company with a focus on commercial clients based in Birmingham, Alabama.
The company says this acquisition increases Landscape Workshop's branch locations to nine throughout the Southeast and is the company's first in Kentucky; existing operations include those in Alabama, Arkansas, Tennessee and Mississippi.
Terms of the deal have not been disclosed at this time.
Founded in 1999 by Bill Henkel and Gordon Denmark, Henkel Denmark says in addition to commercial landscape maintenance, the company's portfolio also includes residential landscape maintenance and a landscape construction division.
"We think our customers and employees will benefit from the investments in systems, sales and marketing and scale that Landscape Workshop brings to the table," Henkel said in a statement. He adds that partners were introduced to Landscape Workshop by a mutual customer.
Henkel and Denmark say they will both stay on at the combined firm, with Denmark overseeing maintenance and Henkel overseeing construction for the Lexington market.
"We are pleased to have Gordon and Bill and their employees joining our team," said Paul Young, Landscape Workshop's chief operating officer.