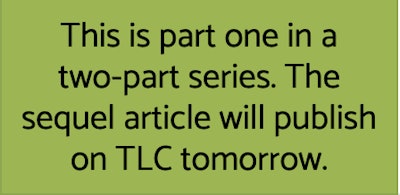 When you think of brands, you may be thinking of large corporate names like Starbucks, Tide or Pepsi who get a lot of attention during periods of media backlash, but a brand is not exclusive to only the immense conglomerations (or negative news).
Branding is often used interchangeably with marketing, but these two elements are not synonymous. Your brand is who you are as a company and what you offer, while marketing is more about the ways you promote your brand. Marketing may convince a customer to give your landscaping business a chance, but your brand will ensure whether or not they become a repeat client.
Defining your brand
Defining your brand is a time for serious reflection on who you are and what you want your company to be. Some of the questions you need to ask yourself are what is your company's mission, what qualities do you want people to associate with your company and what services does your company offer.
"It starts behind closed doors by asking ourselves who do we want to be," says Andrew McCurry, co-founder and co-owner of Father Nature Landscapes, based in Birmingham, Alabama. "This brand, all it does is represent who we really are."
Another part of your brand is knowing who you are trying to target as a customer so you can create a brand that properly represents your landscaping or lawn care business. By acknowledging you cannot be all things to all people, you can focus on addressing your ideal market.
"I think if you portray yourself as somebody who does excellent, high-end work, you start to attract the clients that are looking for high-end work and in time that becomes your clientele," says Jeff Cartwright, owner of Cartwright Landscaping based in Richmond, Virginia.
Visuals
Before Cartwright even began thinking about starting his landscaping company, he first considered finding the right logo and what it conveyed.
"I think, 'What do you want when hiring a landscaping company?' is what I wanted that logo to portray," Cartwright says. "Something sleek, something attractive, something that people looked at and said 'Hey that's a sharp looking image…It looked like they put a lot of time into the image and it's clean-looking. If they're doing that with their logo think what they're going to do with our yard.'"
The logo Cartwright ended up selecting was a green dogwood tree, which is the state tree of Virginia, on a brown background. From a naming standpoint, he chose to use his last name since he was already known in the community and he believes having a person's name attached to a business helps give it some identity.
He advises landscapers to consider what they want to portray, the work they do and the territory they serve when trying to develop a logo.
"Any images you use should be reflective of that," Cartwright says. "They should be well-thought-out, high-end images. Clean, simple logos are the best, but not so elementary that they look cartoonish. I think a lot goes into a brand and you want to give thought to how's it going to look on apparel, how's it going to look on a truck, how's it going to look on letterhead. Is it serious enough of a brand and how it's illustrated to be serious? Are people going to take it seriously? Does it look upscale enough? Consider all of those things."
Father Nature had its logo created by a graphic designer from Auburn while McCurry was still attending college at Auburn University several years before the company was formed. She also helped them select their colors that would come to be painted on every Father Nature-branded truck.
"We had decided that all of our trucks, no matter how beautiful they are from the vendor, are getting painted dark brown, and starting off with all of your trucks painted the exact same color, the exact same brand of truck, becomes similar image going through town," says Daniel McCurry, co-founder and co-owner of Father Nature. "So that once they've (potential customers) see that thing for the seventh time within a week, that thing's ingrained in their brain forever. They'll never forget the beautiful outdoor living space with all this branding that ties in together of who created that outdoor living space."
While Andrew McCurry believes their trucks are probably their most important visual aspect of the brand, uniforms are needed so crew members still look like a team once they leave the trucks.
"When you get out of a truck, there needs to be a sign in the yard that you can tell the truck and the sign go together and the men that are actually wearing the shirt they go with it," Andrew McCurry says. "You need to have brand consistency in everything you do. That's important to us."
For Cartwright, there is no one element of his branding that is more important than another but rather is the combination of them as a whole from the gear his crews wear to the branded merchandise that helps convey his company's message of being an upscale landscaping business.
"Whenever we do a job, or are doing a job or complete a job we have signs that we stick in the yards that look very nice, very professional, very high-end," Cartwright says. "Those are the characteristics we want to illustrate as our company and what we stand for."
Both McCurry and Cartwright agree that when it comes to working on your company's landscaping brand, it's best to turn to someone on the outside for help.
"Hire a professional," Andrew McCurry says. "You don't want your brand looking like a landscaper did it. We have to recognize our strengths and we also have to recognize our weaknesses. There are some things that are worth paying for, and hiring a professional graphic designer is one of those or even a marketing company. We did not pay that much to have ours developed in the beginning, but we're seeing that it's paying huge dividends down the road."
Check back tomorrow for part 2 of this article, where we'll discuss intangible aspects of branding and how to protect your brand.