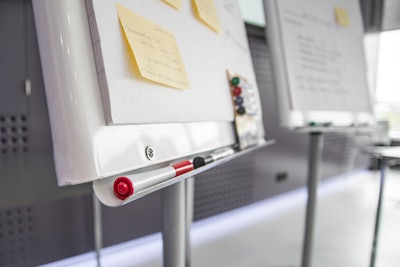 Even though the economy has improved, providing more disposable income for homeowners who are wanting to enhance their outdoor living spaces, this does not mean money is no longer an object for the majority of potential customers.
Clients still are hesitant at times and most landscaping projects have a higher price tag than they would assume. According to The Balance, most sales fail because of fear. Either the fear of change or the fear of being cheated can cause you to lose new prospects if you don't know how to sell your value.
Know your target
Nothing is a greater waste of time than trying to sell to customers who aren't interested in your services or motivated by price only.
According to Tom Reilly, an author and value-based shopping expert, about one-third of consumers are solely interested in price while the other two-thirds are open to hearing your argument.
There are always going to be landscaping companies that can underbid your services, but you need to make sure not to stoop to their level because there are customers who are receptive to paying more if you can effectively communicate your value.
Come prepared
If you know you are meeting with prospects who are open to being persuaded, don't show up empty-handed.
Take advantage of your chance to impress and educate them by bringing materials such as before-and-after photos, literature on your company and what you do, mock budgets, customer testimonials and reviews.
Pictures truly are worth a thousand words and if you can illustrate what kind of transformative work you've done in the past, you can help instill confidence in your potential clients. These also help you see what they are looking for. By looking at previous projects, they can highlight features they would like to see in their own backyard.
As they express interest in certain features, you can explain to homeowners how much these elements cost so they can better visualize what it is they are paying for. Likewise, mock budgets can break down what all they are paying for when hiring you for a landscaping job.
Providing literature about your company can be very important to certain customers who may place more value in companies that are family-owned, focused on sustainability or have been in business for over 30 years.
"It's almost embarrassing at times the way people don't understand all the ways they bring value," Reilly told Inc.
Testimonials can help put buyers at ease, as they tend to be people who were in a similar situation and benefited positively from working with your company and having the service completed.
Discuss ROI
As we mentioned before, prospects are afraid of making a big purchase due to a fear of change and of being cheated. If you have come prepared and have shown them how your work can change their landscape for the better, most will clear the hurdle of change, but you may still have to convince clients that they are not being cheated.
This is where you have to stress that the services they are wanting are an investment and how they can help increase their home's value. For those who are trying to sell their house soon, you can share with them the many statistics on just how important curb appeal is and how it can boost the selling price of the house as well.
Others could be focused on being more efficient and you can explain how a properly planned landscape can help save both energy and water.
Another way to help homeowners understand their investment is by explaining the problems they will avoid by paying for a high-quality professional rather than a cheaper contractor who will continuously run over budget and create more problems than solutions.
Share your worth
Sometimes a client can be so caught up in what they are wanting to have done right now, they may not pay attention to the full scope of your services. While they may be hiring you for a patio installation, they could end up needing someone to handle their plant bed maintenance in the future.
If you build a strong rapport with them and your customer service gives them assurance that you'll handle any future jobs just as well as their first job, they might see you as more desirable over a company that can only meet their current need and not future ones.
Providing guarantees or warranties can also help put them at ease about spending a large amount of money because you are standing by your work.
"We show potential clients we are a resource by telling them about our warranty programs, as it is our duty to make sure they are happy with the product we have installed, and any deficiencies are corrected immediately," Blake Tubby with Arbordale Landscaping in Toronto, Canada, told Houzz. "We explain why hiring us, with our 37 years of experience, will be a direct benefit to them not only in the final product but the longevity they will experience in their newly renovated space."