HGOR recently assisted Children's Healthcare of Atlanta (CHOA) with the planning and designing of their new campus at the northeastern corner of North Druid Hills Road and I-85. According to studies, children in hospitals use up to 22 percent less pain medication and have seven percent shorter hospital stays when exposed to daylight and nature.
The new campus, set to deliver in 2025, will span 70-acres in Brookhaven, Georgia. This facility uses Georgia's natural palette to assist the needs of CHOA patients, families and staff and will include gathering spaces, water features, planted areas, two miles of walking paths and a variety of gardens providing spaces to recharge, eat, relax and socialize.
Additionally, HGOR conceptualized a functioning landscape, which the firm says will help filter stormwater, improve surrounding landscape and increase biodiversity throughout the campus.
"Given the research and the hospital's goal to serve children, we knew this design needed to incorporate nature as much as possible while also considering how the staff would be most efficient," said HGOR principal Bob Hughes. "After understanding the effects of the natural environment on the healing process, we also found that doctor's work quicker and more efficiently moving vertically rather than down long hallways. To complement the research, our goal was to place the hospital in a landscape, not on a landscape to create a compact footprint which preserves 20 acres of the site as a parklike campus quickly evolved."
BrightView volunteers beautify Houston elementary school
The estimated cost of damage done by Hurricane Harvey reached more than $125 billion, which is the most costly natural disaster in U.S. history. Record flooding accompanied this storm and devastated Hilliard Elementary School in East Houston, Texas.
Because of the flooding, all 600 students were transferred to a nearby school. At a recent event sponsored by Recovery Houston, BrightView, OJB Landscape Architecture and Numotion, 640 volunteers from across the country came together to restore the campus grounds of Hilliard Elementary.
Scott Blons, technical director at OJB, and his team assisted with the plant selections, and BrightView Landscape Development's Dallas and Houston teams donated 3,000 shrubs, 300 trees, mulch and gravel to the project. The BrightView teams also coached 30 volunteer teams to install the new landscape, which the company says includes an outdoor classroom, community garden, play space and picnic area.
"The grounds were dated and needed upgrades even before the hurricane," said Garrett Brock, project manager with BrightView Landscape Development. "The new landscape provides a warm welcome to students and visitors and will help kids get involved in outdoor activities."
Hilliard Elementary staff said they are delighted with their new campus, and it has served as an inspiration for the community. The school's interior was also renovated and the refurbished campus is said to be ready for students to return for the 2018-2019 school year.
"We were thankful for the opportunity to assist with the supplies and materials and help beautify the campus, but the real hero is Recovery Houston for managing hundreds of volunteers, most of whom were non-Houstonians," Brock said. "They are doing amazing work to rebuild this community and it was special to be a part of it."
Rain Bird offers new online training courses
Rain Bird Services now offers two new online training courses that they say can help irrigation professionals learn career-enhancing skills from the comfort of their homes or offices.

To earn a Rain Bird Factory-Trained designation, participants must complete either of the two online courses –"Rain Bird Factory-Trained Decoder Technician" and "Rain Bird Factory-Trained Residential Controller Technician"– and pass their online exams by a score of 70 percent or greater.
"Irrigation professionals from around the world have specifically asked us for online training opportunities, and we've listened," said Robert Pfeil, Rain Bird Services' marketing group manager. "Now, with our online classes, classroom training, customized training and Rain Bird Corporation's Knowledge Center, we're able to provide the most expansive irrigation education program in the industry today."
Rain Bird says these two online courses consist of multiple modules which trainees must complete within 90 days. Those participating can register for all of the modules within a course or individual modules of their choosing. To be eligible for Rain Bird's Factory-Trained designation, participants must finish all modules and successfully pass the exam.
Rain Bird says the Factory-Trained Decoder Technician course covers topics including installation, design, grounding and troubleshooting and surge protection. The company says participants in the Factory-Trained Residential Controller Technician course will learn installation and troubleshooting for Rain Bird's ESP-TM2 controller, ESP-Me controller, LNK WiFi adapter and WR2 wireless rain/freeze sensor.
"Correctly installing and maintaining water-efficient irrigation systems is more important than ever before," said Paul Lierheimer, director of Rain Bird's Contractor Division. "Irrigation professionals who choose from our online courses or our in-class opportunities are taking an important step that can further their careers. And, those who go the extra mile to earn the Rain Bird Factory-Trained designation are demonstrating a true understanding of irrigation principles and an admirable dedication to helping their customers use less water in the pursuit of healthy landscapes."
Target takes steps toward sustainable water management
Target says it has decided to do its part for water conservation by putting a connected framework in place—including climate policy, chemical strategy and sustainable cotton sourcing goal—to ensure the company is using resources thoughtfully and measuring progress across the business.

The company has announced a freshwater stewardship approach that they say builds on their existing water management aspirations. Target, in partnership with the World Wildlife Fund (WWF) and designed to help deliver on the UN Sustainable Development Goals, says this approach will address how they can improve water quality, increase access to clean water and optimize water efficiency.
Target says it believes that clean, drinkable water and sanitation are human rights and should be accessible for all. To achieve this, Target says healthy ecosystems and sustainable water management are essential in the delivery of these basic rights. The company says it will focus its freshwater stewardship efforts in areas and on issues where its influence and support can help deliver the greatest impact.
"With operations in nearly 50 countries, Target shares the responsibility of tackling environmental issues in the communities where we do business," said John Mulligan, executive vice president and chief operating officer. "Our freshwater approach is one way we're putting the needs of people, communities and the planet at the heart of how we work today, to help build a better tomorrow."
Target says it used WWF's water risk assessment to review their water use reduction efforts across their manufacturing supply chain, distribution facilities and stores. This, the company says, helped them develop a holistic approach that acknowledges water as part of a bigger global system of megatrends.
"Freshwater resources are more precious and vulnerable than people realize," said Sheila Bonini, senior vice president, private sector engagement at WWF. "Challenges, such as climate change, population growth, changing consumption patterns, are putting our freshwater systems increasingly at risk, and the need for action to address these issues is abundantly clear. Target's approach provides a holistic vision to drive solutions that will bring us closer to a sustainable and water-secure future."
The company says it will continue its water conservation work that's already in progress, such as their recent efforts with Conserva Irrigation to optimize outdoor irrigation systems at their stores. Target says this has already saved more than 36 million gallons of water, and the company says it will be in place at more than 300 stores by the end of 2018.
SiteOne announces return of LESCO's website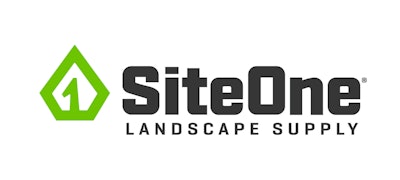 SiteOne Landscape Supply recently announced the return of LESCO.com, a standalone website for the legacy agronomic brand. SiteOne says this website features information on LESCO products for the golf, ornamental and turf markets and a blog where users can find answers to frequently asked questions and additional resources.
"LESCO has been a trusted brand among turf care professionals for decades and we want to ensure that all our customers are aware of its full breadth of product solutions," said John Gertz, vice president of category management and leader of SiteOne's agronomic business. "The website is just the beginning. We're launching several exciting new LESCO products this spring and summer. But for now, we wanted to build a place where everyone who uses LESCO products can learn more."
SiteOne says this website caters to green industry professionals looking for superior agronomic results. The company says that golf course professionals, landscape contractors and turf managers can all learn more about innovative fertilizers, specialty agronomic solutions, control products and more.