Editor's note: This is one of the articles found in Mower Matchup. Mower Matchup was created to delve into the pros and cons of various mower features and provide a comprehensive look at popular mower manufacture specs. Click here to download the full Mower Matchup series.
---
Due to the prevalence of gasoline, considering other fuel sources is not high up on most landscapers' checklists when considering new mowers.
Yet the market for mowers powered by a fuel other than gasoline is growing, and as technology advances, some of these alternative fuels offer both financial and environmental benefits to companies that switch.
Diesel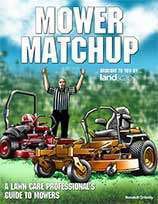 Want to download the entire Mower Matchup series, including makes, models and details on dozens of mowers from the editors at TLC?
Coming in second to gasoline in popularity is diesel. Although diesel and gasoline are both derived from crude oil, the two fuels have different molecular structures, and they also differ in how they burn and create energy.
Diesel gets better mileage than gas, thanks to its higher density, meaning less fuel is required to generate the same power. But diesel still may suffer from a perception problem.
"It used to be you'd run along a highway and you'd see those trucks that were just spitting out black smog all over the place, and that's what people think about when they think about diesel," says Mike Simmon, marketing coordinator for Grasshopper. "But diesel is the best alternative to gasoline."
According to Simmon, power, fuel economy and emissions compliance can all be found wrapped up in the diesel package.
According to Jamie Briggs, an Exmark product manager, there has been increased interest in diesel due to the productivity it offers. Exmark introduced its Lazer Z Diesel model at the 2017 GIE+EXPO and Briggs says it has been well-received by landscapers.
"Fuel consumption is significantly less than gas-powered engines," Briggs says. "And with their torque and power, they're able to cut more grass in less time using the diesel."
Simmon says that while landscapers may pay more at the pump or per gallon for diesel, they will use less of it over time compared to gasoline or propane, which tend to burn a gallon and a half per hour.
There are some drawbacks to using diesel. Crews, used to using gasoline, may mistakenly put gas in a diesel tank. Another limitation is the number of locations at which crews can refuel. Simmon says while diesel outlets are becoming more common, they are still not as abundant as some would believe.
And a diesel-powered machine can cause sticker shock to some landscapers since these models are $2,000 to $3,000 more than a comparable gas mower.
"You also get a lot more power, fuel economy and longevity," Simmon says. "So over time you're going to catch up that higher cost of acquisition with your lower cost of ownership."
Yet recovering the upfront cost only makes sense for those who plan to keep their equipment for four years or more. Those who trade their models in every two or three years won't be able to fully recoup their costs in that amount of time, according to Simmon.
"Usually the hesitation comes down to that cost of acquisition and then the question (is) whether or not you are going to own that machine and use it long enough to get your return on investment," Simmon says. "Economics usually play a larger role in the decision making than the environment does. Buyers have to balance their business needs with the environmental costs."
According to Simmon, it is generally the business-savvy landscaping companies that will actually pull the trigger on diesel units because they have developed a strong customer loyalty.
"They don't have the worry that they're going to get undercut or underbid on a cost basis because they're doing so much more for their customers and what they're providing to them every month," Simmon says.
Propane gains popularity
There has been a steady increase of propane mowers available from OEMs over the past few years.
More than 150 propane mower models are now produced by 14 manufacturers in a variety of configurations, including zero-turn and stand-on units, according to Jeremy Wishart, director of off-road business development for the Propane Education & Research Council (PERC). There are around 20,000 commercial propane mowers in operation across the country, which is about 5 percent of the total commercial mower market.
"Contrast that to 2012, when there were a few hundred propane mowers in operation — and only a handful of models available by a few OEMs — and you can see a market full of contractors who are buying into the benefits of propane," Wishart says.
The pros of propane include lower operating costs, longer engine life and cleaner burning fuel.
"Compared with gasoline mowers, research shows that propane reduces source energy use by 20 percent, greenhouse gas emissions by 17 percent, NOx emissions by 19 percent and SOx emissions by 16 percent," Wishart says. "This is obviously better for the environment — a fact landscapers can leverage when marketing to environmentally-conscious clients to grow business. Commercial clients, for example, are increasingly seeking environmentally friendly methods to support their own corporate sustainability efforts. Homeowners are also becoming increasingly attuned to the potential impact of engine emissions."
Lawn Butler, based in Knoxville, Tennessee, made the switch to propane over five years ago and converted almost all of its fleet. Since swapping his fleet, Seth Kehne, president of Lawn Butler, says his costs have decreased thanks to the ability to buy a certain amount of propane at the beginning of the year to lock in their rate.
"One of the biggest pros is from a budgetary standpoint," Kehne says. "We're able to be right on target with our budget as opposed to fluctuating with gasoline like we do with our trucks."
In addition, Lawn Butler doesn't worry about theft or spills with propane. "It's clean burning, so guys riding around breathing it in are safe," Kehne says. "It's sustainable and our engines live longer and we actually can push our maintenance a little bit longer between oil changes."
Lawn Butler has an on-site propane tank that a vendor refills regularly, making it easy for crew members to grab a tank and go. Kehne says landscaping companies would need at least six pieces of equipment running every day for this sort of investment to be worthwhile.
Some of the biggest barriers for propane right now are the cost of acquisition, equipment resale values and landscapers' predisposition to gasoline.
"Propane's biggest challenge is competing with the status quo," Wishart says. "You never hear contractors say they love gasoline; they use it because it's what they've always used, plain and simple. Getting contractors to think beyond how they've always operated and realize that there are other fuel sources better suited for the work they're doing will always be our number one challenge and top priority."
While some companies are reluctant to pay the higher prices for propane equipment, there are rebates offered by PERC's Propane Mower Incentive Program that offers contractors $1,000 for every new propane mower purchase and $500 for every mower conversion.
Yet, Wishart says the incentive is more of a perk than a necessity, and many contractors have made the switch without using the program and still experienced a positive ROI.
Kehne felt it was important to be a good steward of the environment and had decided to switch to propane even if it was going to cost the company a little more.
"If we have the ability, where it's close in costs, we'll do the more sustainable option," Kehne says. "Our employees really like it, as well."
Both Kehne and Briggs say a disadvantage of propane mowers is the challenge of reselling the product into the secondary market due to the limited number of contractors looking to buy propane units.
Other manufacturers, such as Grasshopper, do not currently sell a propane mower. The company offered a propane model in the 1990s, but Simmon says it didn't last.
"We didn't see the advantages even back then," Simmon says. "Even if the technology has advanced, the properties of propane don't change. Propane is a dry fuel, which means there's less lubrication than with gas or diesel."
Yet, Wishart says propane technology has advanced over the years.
"Propane engine and aftermarket conversion technology have made significant advancements to maximize performance and efficiency, so the cutting experience is identical to what contractors are used to with gasoline engines," Wishart said.
Wishart also pointed to the number and type of contractors applying for the Propane Mower Incentive Program. "While we've always had healthy participation since the program first launched in 2012, we're now seeing more second- and third-time applicants, reinforcing the belief that once a contractor converts to propane, there is no going back to gasoline."
Other alternatives
While diesel and propane are the predominant gas alternatives, other fuels and power sources are available. Whether or not these will gain a significant foothold in the mower market is still subject to debate.
Electricity
As battery power has slowly become more prevalent in handheld landscaping tools, mower manufacturers have begun monitoring and taking this power source for zero-turn mowers more seriously.
"Exmark is always watching the leading technology," Briggs says. "It's now a cost and productivity issue. Contractors need to be able to buy equipment that makes money, but they also need to be able to run for a full day without doing recharging. Certainly, there's an opportunity for electric to gain traction, but there still needs to be an advancement in the technology to get it there."
Nick Minas, a product manager for John Deere Commercial Mowing, says while there hasn't been an overwhelming demand for electric zero-turn mowers, there is still increased interest from landscapers.
"As technology advances, there could be more opportunities for electric mowers," Minas says.
Simmon is skeptical battery power is the solution as an alternative to gas. While there has been advancement for electric power in the automotive industry, he isn't certain how well it will transfer over to running a mower.
Electricity may not be up to the weight and power demands of today's mowers, Simmon says. Electric-powered handheld equipment makes more sense, because they use smaller rechargeable batteries, and are used in spurts of time, he says.
Simmon doesn't write off electric completely, noting battery-powered handheld equipment's progress over the past 10 years.
Electric-powered commercial mowers could eventually reach acceptance, Simmon says, "but it would have to take some significant advancement in the amount of power a battery could provide."
One landscaper is seeing a more immediate future for electricity, however. Lawn Butler's Kehne believes electricity will eventually overtake gas, and his company is already planning to evaluate electric zero-turn mowers in the next two to five years.
Biodiesel
Biodiesel, considered a subset of diesel by some, currently has only a little over 200 public fueling stations in the country, according to the U.S. Department of Energy's Alternative Fuels Data Center.
Simmon noted most landscapers refuel their mowers either through contract fueling or at filling stations, and those are going to offer predominately gas and diesel. "Until we get to a point where biodiesel makes a good inroad in the vehicle market, then there's going to be less demand for it in mowers," he says.
Biodiesel is typically sold to end users as a blend of biodiesel and petroleum-based diesel. The nomenclature includes a capital "B" (for biodiesel) followed by a number that indicates the percentage of biodiesel versus petro-diesel. So B5 is 5 percent biodiesel and 95 percent petro-diesel. B20, a common blend for commercial purposes, is 20 percent biodiesel/80 percent petro-diesel.
Pure B100 biodiesel by itself is more expensive to make than petro-diesel. But thanks to the Renewable Fuels Act of 2007, credits generated by renewable fuel production brought the price down to $2.68 a gallon for B20 fall 2017. What's important to remember is that 80 percent of a B20 blend is diesel, so the price of the biodiesel is actually much lower than diesel. For example, if the credit's total value was $1.20 a gallon, the B100 price would be $2.18. It's the diesel that brings the B20 price back up to $2.68, which is still lower than the straight diesel cost of $2.76.
B100 and B20 substantially reduce particulate matter, total hydrocarbons and carbon monoxide. Additionally, biodiesel is nontoxic, biodegradable and has none of the aromatics found in traditional diesel, which are considered carcinogenic.
While some mower models can handle biodiesel, John Deere does not advise using blends over B20, as these can harm the emissions control system.
Interest in biodiesel as an alternative fuel has been minimal right now, according to manufacturers.
Compressed natural gas
Boasting more filling stations than biodiesel, compressed natural gas (CNG) has currently 910 public fueling stations in the U.S.
CNG produces lower amounts of carbon dioxide and other harmful emissions than gasoline. Unlike liquid fuels, CNG does not clog fuel systems during seasonal storage, but the trade-off is a lack of lubrication, according to Simmon.
It is the least expensive U.S. fuel and almost all of the natural gas consumed in the United States is produced in North America.
For a time, Simmon believed CNG was rising up in popularity. Dixie Chopper introduced the CNG-powered Xcaliber Eco-Eagle in 2009, but the model is no longer listed on the company's site.
Despite its advantages, CNG is not perfect. It has a lower energy density than gasoline, giving it a limited range.
Should you make the switch?
There are several factors to consider when looking into going to the road less traveled.
First, of course, is the bottom line. Spiking gas prices can hurt your wallet but swapping to another fuel comes with a series of upfront costs, including the new equipment and the possible need of setting up an infrastructure for refueling.
"With alternative fuels, it is important for landscapers to consider infrastructure to ensure they have access and storage for fuel," Minas says. "The cost savings may not outweigh the costs to set up a business for alternative fuels."
Another element to keep in mind is the change in maintenance procedures. Most alternative fuels simplify maintenance, but other processes will need to be learned for the different type of fuel and engine.
If your company is trying to win city or government contracts, switching to alternative fuels can give you a competitive advantage. Likewise, if your company has committed to being sustainable, using alternative fuels can enhance your ecological footprint and public perception.
"We've put it out there a little bit and people think it's great," Kehne says. On one public/private contract, Lawn Butler highlighted its propane use when quoting the job. "That added to our pros," he says. "So, it's definitely positive."