Editor's note: This is part two of a two-part series. Click here to read part one. Mower Matchup was created to delve into the pros and cons of various mower features and provide a comprehensive look at popular mower manufacture specs. Click here to download the full Mower Matchup series.
---
Wright Manufacturing did a time study on mowing operations and saw that significant blocks of the workday were spent on activities other than cutting grass. Instead, landscaping crews were using trimmers where bulkier mowers couldn't reach and getting off the mower to remove debris out of the cutting path. While mowing, they were also taking slower turns.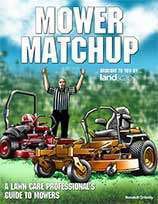 Want to download the entire Mower Matchup series, including makes, models and details on dozens of mowers from the editors at TLC?
"A stand-on mower significantly cuts down on this unproductive time because you can quickly step on and off the mower," Wright said. "In addition to the time savings, stand-on mowers are not as complex, have lower operating costs and are more comfortable to use."
Stand-on mowers also can offer increased visibility, and depending on the property, can be more productive than a walk-behind mower or sit-down ZTR. They also allow operators the chance to readjust their positions to help fight stiffness.
In addition, since stand-ons are more compact, more units are able to fit on trailers. They are typically lighter in comparison to ZTRs, and with the operator's ability to adjust their position, this shifting can aid the machine's center of gravity, which can be helpful when mowing on slopes.
"Where a standard ZTR would have a good part of the engine bay hanging behind the rear axle, there's nothing but the back of the operator behind the rear wheel," Roche said. "The units also have a centralized mass. Because that engine is in between the front and rear wheels, that center of mass is something that contributes to traction as well. With a lower wheelbase, there's literally less weight on a stand-on to move around. That means there's less inertia and less turf damage when you stop, start and make your turns."
So, what are the drawbacks?
"Stand-ons typically have slower ground speed and do require the operator to stand all day," Minas said.
Adds Scheffler: "Due to its compactness, servicing the stand-on machine may not be as user-friendly as working on a sit-down zero-turn."
And customers usually opt for a mix of stand-on and ride-on mowers.
Benefits and drawback of ZTRs
ZTRs still remain popular with landscapers for several reasons.
"Going back to before commercial zero-turns came into being, you only really had two choices in the world; you had something called an out-front mower and you had something which was a sit-down unit," Reister said. "What you get with a zero-turn is high maneuverability, good speed and great cutting."
Wright said that the biggest benefit of a ZTR is the machine's ability to carry a high capacity bagger.
Scheffler added that sit-down ZTRs usually have a wider footprint for stability when compared to a stand- on. And since the mower is larger, it allows room for more features, tools and aftermarket accessories.
"The number one benefit of a zero-turn mower is the productivity of the machine, especially when maintaining large properties," Minas said. "They are fast, productive and offer great maneuverability. Additionally, a variety of engine and deck options, as well as mulching features, offer a solution for almost any operation."
But some of the benefits associated with ZTRs can also prove to be their greatest drawbacks, including size, operators sitting down and being forced to get on and off the machine from a seated position to move items in the cutting path.
"Because sit-down zero-turn mowers are typically larger than stand-on mowers, the weight of the sit-down mower may prevent it from being wanted on certain properties/soils due to the potential of creating ruts," Scheffler said. "A sit-down operator is stationary, and the center-of-gravity of the mower will not change dramatically, making cutting on slopes a little more challenging.
Also, with their larger footprints, you get less equipment loaded on a trailer versus using stand-on mowers."
What does the future hold?
Both stand-ons and ZTRs will continue to have their fans, according to our experts.
Minas believes that ZTRs will continue to be one of the top mowing solutions because of their productivity benefits, even though stand-ons have increased in popularity.
"We believe that stand-on mowers will become more popular than other style mowers," Wright said. "It's almost universally accepted as the best way to get the job done and, as the industry evolves, the notion of what a stand-on mower will do will also evolve, eliminating the objections of the late adopters. We've certainly seen the start of this evolution as many manufacturers enter the market with their first-generation models."
"Stand-ons have an opportunity for growth at the expense of walk-behinds as traditional, riding ZTRs," Roche said. "I think stand-ons will take more of the walk-behind and sulky business in the near term because of the natural productivity gains there."
But don't discount the ZTR.
"The sit-down zero-turn market will continue to lead the way in market share, as these mowers allow more flexibility in features and designs that landscapers need simply due to their larger size," Scheffler said. "And in the residential market, as well as our culture, the customers typically desire to sit."