Editor's note: This is part one of a two-part series. Mower Matchup was created to delve into the pros and cons of various mower features and provide a comprehensive look at popular mower manufacture specs. Click here to download the full Mower Matchup series.
---
Every lawn care operator deals with different terrain, clientele and climates, but they all have one thing in common: mowers.
While many landscapers gravitate to the tried and true zero-turn (ZTR) sit-down mower, others use stand-ons. But is one necessarily better than the other?
Here are the benefits and downsides of both types of mowers.
The beginning of the stand-on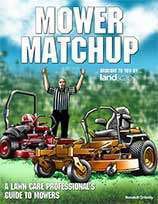 Want to download the entire Mower Matchup series, including makes, models and details on dozens of mowers from the editors at TLC?
When talking about stand-on mowers, it only seems fitting to hear from the company that invented the product.
The idea of the stand-on mower came from the challenges Wright Manufacturing originally faced as a landscaping company, according to Ed Wright, vice president of engineering, sales and marketing. The company was using walk-behind mowers, which were tiring its crews.
"We couldn't keep good employees for more than a few years before they were burned-out and looked for less strenuous work," Wright said. "This lead to the invention of the Velke sulky, a small wheel accessory that allowed you to ride behind a walk-behind mower. We quickly realized there was a market to sell it to other landscape companies."
This progression led to the idea of users actually being able to stand on the mower, and in 1997, the company began the production of the original Wright Stander.
In the green industry, the initial idea of using the stand-on mowers was unconventional, said Wright, but there were some early adopters.
"After a few years, it quickly became accepted that stand-on mowers were more efficient and lighter than ZTRs on smaller and medium size lawns," Wright said. "Our primary users were converting their businesses from using walk-behind mowers to stand-on mowers. It took another 10 years to expand into larger and more powerful stand-on mowers that could outperform many conventional ZTRs."
Now the question no longer seems to be why a company would want a stand-on mower, said Wright, but instead, what size and options do you want?
"There is definitely an increased interest in stand-on mowers, especially from end-users who are converting from the walk-behind market," said Ron Scheffler, product manager with Bob-Cat. "As landscapers have become more aware of the benefits of this type of mower, interest has increased in customers who typically use both walk-behinds and sit-down zero-turns."
Stand-on user demographics
When the first stand-ons were introduced, Wright says that they noticed the primary purchasers were landscapers who maintained smaller properties; today, the demographics are more universal.
"Stand-on mowers are universally appealing when you realize that more lawns can be cut in the same amount of time while also having lower operating costs, a lighter footprint, less fatigue and lower rollover hazard," Wright said.
"It is important for contractors to evaluate their business to determine which machine is best for the properties they work on," said Nick Minas, product manager for John Deere Commercial Mowing. "Stand-ons are ideal for smaller properties and landscapers that want to fit several machines on one trailer. Zero-turn mowers are larger in size and take up more space on a trailer. However, the productivity benefits of zero-turns make them ideal for large properties."
Veteran landscapers who value efficiency tend to prefer stand-on mowers, according to Scheffler. This could be because the machines may provide less back stress as opposed to sitting for long periods of time over rough terrain.
Stand-on mowers do provide a natural and intuitive body position when working, added Dan Roche, marketing director of commercial products for Ferris. This allows bumps and vibrations to travel through the entire body and not just the upper body, which happens when the operator is seated.
Stand-on mowers can excel in areas that have tighter spaces, more intricate and heavily populated landscapes or a fair number of trees and bushes to maneuver around and under. The ability to mow and maneuver in compact spaces, such as cul-de-sacs and gated communities, comes in handy.
"Cost is also a factor," Minas said. "Stand-on mowers are typically less expensive than zero-turn mowers, so budget may be a decision-driver."
"We definitely see younger operators warming up to them and approaching them with more enthusiasm," Roche said. "The preference and where the stand-ons have come from have been driven much more by conditions and terrain than I would say a certain type of operator.
"That's really what the stand-on does," he continued. "It can get into a gated area and it can bring a lot of productivity into that space once you're inside."
Check back tomorrow for part 2 of this article, where we'll explore the benefits and downsides of both mower types and what the future holds for them.