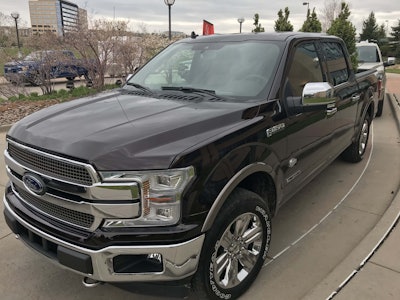 Five months into the calendar year, Ford's venerable F-150 will undergo a mid-model year shakeup when the first diesel-powered versions – cranking out an EPA-estimated 30 MPGs on the highway – hit dealer lots next month.
Ford offers seven different trim levels for F-150 but the 3-liter Power Stroke V6 – Ford's sixth available engine across its pickup line – will only be available on the upper retail tier as a $4,000 option on F-150 Lariat and a $3,000 option on King Ranch and Platinum.
Fleets will be the only ones able to buy the turbo diesel in base XL and XLT trims. Thanks to the lack of ultra-premium options and its smaller tires, fleet trucks see a lower drop in MPGs when going from two-wheel to four-wheel drive models – from 25 combined in a 4×2 to 24 combined in a 4×4 configuration. Retail models take an extra hit on the combined rating – down to about 22 MPGs – thanks to 20-inch wheels, all-terrain tires and a host of cool (but heavy) options.
Rated at 250 hp and 440 lb.-ft. of torque, the baby Power Stroke is a little short of the 375 horsepower and 470 lb.-ft. of torque coming from the also-optional 3.5-liter EcoBoost. But the diesel does have a 4 mpg advantage in EPA estimated combined fuel rating.
That MPG delta will spread under regular heavy-towing conditions that are thirsty for low-end torque, which is the segment Ford is targeting with its smallest diesel entry.
Fleet trim trucks get a payload capacity of 2,020 pounds – about 80 pounds over retail models – again, thanks in part to the absence of cool and heavy options.
While the 3-liter Power Stroke's 11,400-pound towing capacity is best-in-class for a full-size diesel, it's not exactly mind-boggling. In fact, it's measurably less than the 3.5-liter EcoBoost's max of 13,200 pounds.
Where the Power Stroke outshines the EcoBoost, however, is in how it handles the load.
EcoBoost engines boast impressive on- and off-highway MPG numbers, but under towing conditions, those gas-fired MPGs can fall faster than a Raptor screaming across a dry lake bed.
In fleet trim, loaded with 1,000 pounds of lumber in the bed, the 3-liter engine nimbly handled a 44-mile dash up, down and around the mountainous Colorado terrain. I was able to nearly meet the 4×2 EPA-rated combined rating of 25 MPG, coming up just short at 24.7 MPG.
When lugging a horse trailer loaded to 6,500 pounds on a 23-mile loop featuring many steep inclines and high altitudes – both regular features in Colorado – my fuel economy dipped to about 13.4 mpg while in Tow/Haul mode.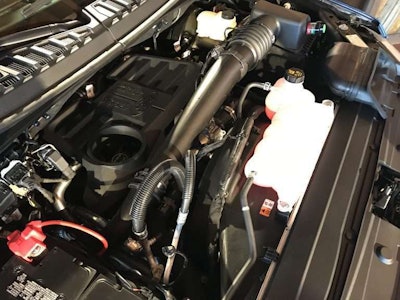 Tow/Haul mode optimizes transmission shifting with a trailer attached, using higher shift points to minimize gear changes. Since peak torque from the Power Stroke comes in a band from about 1,750-2,250 RPM, Tow/Haul mode is a helpful co-pilot for staying in that zone.
Ford's XL and XLT trims may not be flushed with tech, but the truck is a level more than basic. It features several driving modes, including Tow/Haul, modes for wet roads and snow, Sport Mode and Eco-Mode – each optimized for efficiency under the various conditions.
I found Sport Mode to be just that: sporty. The feature changes the frequency of gearshifts through the 10 speed automatic, staying in the power band sweet spot longer. Instead of shifting gears up and down for max-efficiency, the transmission holds a gear longer to make driving more responsive.
The engine's variable geometry turbo and pilot injection system practically eliminates turbo lag. You're not going to beat the guy in the Mustang GT out of the hole, but you don't have to wait for the turbo to kick in before the truck leaves the line. The engine's response to input from the pedal was quick.
Enhanced insulation in and around the dash keeps what little noise the engine makes from filtering into the cabin. Even the work truck models, which get a rubber floor liner versus carpet on higher trims, offer a quiet driving experience.
In the absence of engine clatter, and with the quick response from the accelerator to launch, it's easy to forget you're actually driving a diesel.
The torque-rich diesel makes off-road crawling and climbing hills easy. I took a King Ranch 4×4 model through a roughly 20-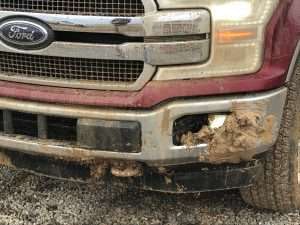 minute off-road course that was better suited for an ATV.
It was on this course that I expected the Power Stroke to pick up a handful of negative marks. It seemed unlikely that all that bottom-end torque could handle the ankle-deep mud. "We'll spin these tires so deep at launch that we might find buried treasure," I thought.
I couldn't have been more wrong. The truck blasted right through the mud and muck – and over cross ties and rocks – with less effort than you would expect from a gasser, and the power felt expertly measured and calculated. An optional 360-degree camera system is a handy little add-on feature that allows you to see rocks and limbs around the truck that otherwise you wouldn't see until after you'd already run over them.
For drivers who tow more than the average pickup owner – say, north of about 3 tons – the 3-liter Power Stroke is a viable option that provides a driver-friendly but efficient on-road experience.
EDITOR'S NOTE: Jason Cannon is the equipment editor for Commercial Carrier Journal and Overdrive. Reach him at jasoncannon@randallreilly.com.