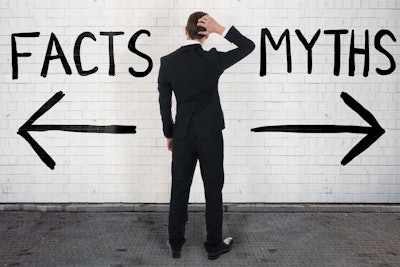 This is part one in a two-part series. The sequel article will publish on TLC tomorrow.
---
Have you ever found yourself doing a job or project a certain way just because you've seen another landscaping company do it?
For example, if you see rival landscaping companies taking part in 'crape murder', do you go along with it on your properties just because another reputable company does it, or do you do your own research and debunk the practice?
In the business world, there are many myths that can set a trap for newer companies just starting out, and it's important not to be fooled by these practices just because others are doing them.
If you've found yourself questioning the importance of social media for your landscaping business, whether or not to hire friends and family and more along those lines, check out what a few industry experts do and don't recommend.
Marketing
The world as we know it today is tech-savvy to the extreme, and it doesn't look like that's going to change anytime soon.
Even with this in mind, there are still many landscaping companies around that don't have websites or social media accounts, but is this helping or hurting in the long run?
Most customers take a lack of presence online as a sign that your company isn't on the up-and-up, which will greatly impact revenue and potentially send your company spiraling.
"Buyers are becoming savvier these days," said Mike Eisenhuth, LandOpt success coach. "If they have something in mind, the first logical step to take is to do some research online. To me, a website along with a social media presence is a must."
When looking at social media, Eisenhuth says he's seen many companies use it and use it well, but he has also seen a number of companies flop on their social media accounts.
"Those that do well are successful in getting people to follow their page and constantly posting new updates and pictures," Eisenhuth said. "I have even worked with companies that have been able to recruit their labor force solely through posting wanted ads on Facebook and having people share the post."
The first question Eisenhuth recommends asking is, "Who is my ideal client?" After that, tailor your social media content and ads to fit that specific idea.
For SGK Landscapes in Starkville, Mississippi, successful marketing looks more like a well-wrapped truck.
"We've been able to grow at a significant rate every year, and I think it's basically based off of people being able to see our trucks," said Sonny Trimm, senior account manager with SGK Landscapes. "I don't think social media is a bad thing or marketing through there, it's just that we're new to it, so I can't say if it's helping or hurting."
Trimm does say he thinks utilizing social media helps keep the company at the top of customers' minds throughout the day since people look at their social media accounts multiple times a day.
For new companies, he recommends doing whatever you can to get your name out there, whether it's through social media, a website, vehicle wraps or taking out ads in local newspapers and magazines.
According to Glenn Bertha, success coach and recruiting manager with LandOpt, the more irons you have in the fire, the better your chances are of gaining business.
"To be as effective as possible, a well-thought-out marketing plan should include various vehicles to get your name out there," Bertha said. "To illustrate this point when coaching, I utilize a fishing analogy. The more lines you have in the water, the better off you will be. One line cannot catch as many fish as many can, and when one spot goes dry, there are others that can help to offset it."
Bertha also notes that word of mouth can be beneficial, but in today's digital age, it's imperative for a company to be online if it wants its marketing plan to grow.
Trimm adds that it's also important to ensure someone is available to operate and manage any social media accounts or websites your company has. This in itself can be a full-time job, so either consider having a designated social media manager or contracting out to a marketing agency to manage the sites for you, depending on your budget.
Don't be cheap
By now, you've probably heard many recommendations on ways to cut costs in your business, especially if you're just starting out, but what are some areas in which you absolutely shouldn't allow cuts?
Across the board, these experts agree that two of the most important areas to not be cheap in are when purchasing equipment and when hiring employees.
"Equipment is the life of a company," Trimm said. "If we don't have equipment, we can't work. And it's (about) employees. You want to make sure that you're paying your employees well, especially for new companies just starting out."
According to Brad Irving, owner and general manager of Jay's Landscaping in Beaumont, Texas, companies shouldn't just choose used equipment just because it will save money in the present.
"In all of these areas, they should move forward based on value and dependableness," Irving said. "Having cheap, used equipment may not be as reliable as having a less expensive piece of new equipment. Sometimes going cheaper will cost you more in the long run. You will have to make sacrifices on some items, but you can plan to improve as you grow your business."
Trimm says it's incredibly important to have dedicated and reliable employees on staff, especially when the workplace gets hectic. Having staff members who can pick up the torch and carry on with projects even when the boss is out and about ensures productivity and peace of mind. But to have this kind of dedication, Trimm says it's mandatory that employees be paid well.
Trimm says the SGK Landscapes has been in business almost 16 years and knows the difficulty of starting out as a smaller operation. In the work world today, it's hard to find employees who will work without the promise of insurance or other benefits. But Trimm knows from experience that sometimes a company just starting out isn't able to offer those things up front.
Over the past five or so years, Trimm says SGK Landscapes has been growing and can now offer both retirement and insurance to its employees.
"It's hard as a smaller company to offer those things," he said. "If you're able to do so, it's always great, but as a small company starting out, I know it's hard to offer those kinds of things."
Check back tomorrow for part 2 of this article, where we'll explore the importance of continuing education courses, customer satisfaction and more.