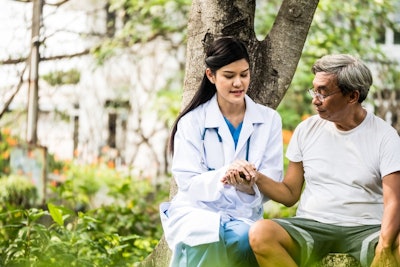 With the importance of understanding and promoting mental health awareness growing daily, you as a landscape business owner might wonder how you can contribute to this cause.
The utilization of gardens at medical facilities has been in circulation since World War I because of the therapeutic element the activity presents. Studies show that gardening has been proven to improve mental health, and the benefits of being out in nature are often used in therapy sessions by way of healing gardens and nature walks.
With this idea in mind, talk to your crews and local medical facilities about the possibility of hosting a gardening workshop for psychiatric patients in need of a creative and productive outlet. Taking time to talk with patients and show them proper gardening and planting techniques could potentially give patients an outlet they've never considered, and it helps your crews become more confident in their abilities by teaching skills to others.
Or if you have customers who have expressed an interest in having a therapy garden installed in their personal landscape, check out what goes into creating a therapeutic garden and the benefits that accompany it.
Gardening benefits
Whether an individual is actively participating in gardening or is just taking time to sit and enjoy what's been created by a professional, the healing effects are still visible to the experts.
According to Kelly Carlson, Ph.D, PMHNP-BC, gardening projects serve as an excellent method of implementing grounding techniques with patients struggling with mental illnesses. Grounding techniques, The Huffington Post says, are therapeutic skill sets used to improve patient care.
According to an article by Diana Raab, Ph.D, in Psychology Today, when a person is grounded, he/she is in complete control of his/her mental and emotional self, and he/she is not easily influenced by others or other ideas.
When used therapeutically, experts say gardening can serve as a powerful method for grounding psychiatric patients, as it puts them in contact with nature and other people while allowing them to be active and move about.
According to Psychology Today, grounding techniques help individuals detach from emotional pain by reconnecting with the world around them and the present moment. While scientists still aren't completely sure how exactly gardening reduces stress, it has been shown to reduce cortisol production.
Sarah Rayner, in an article in Psychology Today, notes a few other reasons why she believes gardening can improve mental health.
The act of gardening allows individuals to have a sense of responsibility and act as nurturers to their plants. When people are given the chance to care for a garden, it gives them something to look forward to and something to care for. They are responsible for the care and feeding of the plants and the upkeep of the area, which helps them develop an appreciation of nature and what it offers.
Gardening also lets individuals relax and let go of problems in their personal or professional lives. For a short time during the day, there's not a care in the world outside of the garden and what needs to be done within the flower bed.
Rayner notes that working in nature can release happy hormones.
"To say that gardening encourages us to exercise and spend time outdoors might seem a statement of the obvious, but it's worth reminding ourselves that what's good for the body is also good for the mind," Rayner told Psychology Today. "It's true that a session in the garden can be tiring, but it can also get rid of excess energy, so you sleep better and ultimately feel renewed inside."
While exercising, serotonin and dopamine levels rise, and, as mentioned earlier, cortisol levels are lowered; this lowers stress and increases happiness.
Along with the mental benefits that accompany gardening, the Centers for Disease and Control Prevention (CDC) says that performing activities classified as moderate-intensity level, like hobby gardening, for two and a half hours each week can help reduce the risk of high blood pressure, obesity, type 2 diabetes, heart disease, osteoporosis, stroke, depression, colon cancer, and premature death.
Therapeutic gardens
If your company isn't able to work firsthand with medical facilities to aid psychiatric patients with therapy but do have customers who have expressed interest in having a therapeutic garden installed, take a look at what a therapy garden actually is.
According to the American Horticulture Therapy Association (AHTA), horticulture therapy techniques have been used for centuries to help participants learn new skills or regain ones they have lost.
"Horticultural therapy helps improve memory, cognitive abilities, task initiation, language skills, and socialization," AHTA says online. "In physical rehabilitation, horticultural therapy can help strengthen muscles and improve coordination, balance, and endurance. In vocational horticultural therapy settings, people learn to work independently, problem solve and follow directions."
Therapeutic gardens are plant-dominated environments designed purposefully to facilitate interaction with the healing elements of nature. These interactions, AHTA reports, can be passive or active depending on the needs of the user and the design of the garden.
When considering the basic elements of a therapeutic garden, AHTA says to keep in mind that they should include wide and gently graded accessible paths and entrances, containers, raised beds and a sensory-oriented plant selection focused on fragrances, colors, and textures.
"While these gardens may represent the ideal, successful horticultural therapy programs do not depend upon an elaborate garden design," AHTA says online. "Likewise, a professionally-designed therapeutic garden without a horticultural therapy program is unlikely to deliver to its full potential."