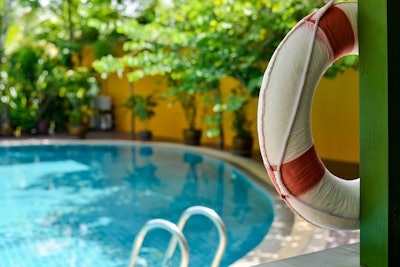 Summer is just around the corner. In fact, most schools have already wrapped up for the year. That means more of your customers will be enjoying their pools or requesting one be installed.
While pools are an excellent way to beat the summer heat and enjoy nature, it's also important to keep in mind that safety is key when it comes to being in and around pools.
Whether you've already installed a pool for a customer or you have a few installations on the docket, being able to sit down with customers and explain pool safety is imperative.
Spreading safety knowledge can help customers enjoy their pools all summer long and potentially save lives.
Children and safety barriers
A good first step in preparing to talk with customers about pool safety is to take stock of which customers have children who will be using the pool.
According to Ellyn Pollack with Pool Safely, a public education campaign run by the Consumer Product Safety Commission (CPSC), nearly 400 children under the age of 15 drown in pools and spas every year, and of those, 300 are under the age of five. Eighty-seven percent of those fatalities occur at residential pools or spas.
Pollack told Houzz it doesn't just come down to teaching children to swim, either. Other factors to keep in mind are the possibility of getting caught in a pool drain, electrocutions and other injuries from slips and falls.
The CPSC recommends implementing multiple layers of protection in the form of CPR training, swimming lessons, pool alarms, regular inspections, safety barriers, adult supervision and the like.
Pollack recommends having one person as the designated pool watcher when children are in the pool, and this person shouldn't be distracted with reading, texting or socializing. Pollack notes that when it comes to children drowning, it's not like it happens in the movies.
"There's no splashing and calling for help," Pollack told Houzz. "Kids go down quickly and silently."
The American Academy of Pediatrics recommends all children over the age of four be enrolled in swimming lessons, but the association notes that children as young as one can safely begin lessons also.
In many cases, children as young as seven months can begin learning to float and swim in infant and toddler aquatic programs.
These classes are excellent ways for parents and siblings to bond with younger children while teaching them an important life skill. However, be sure to stress to customers that just because a child knows how to swim doesn't mean adults can be absent from the pool. There should still always be adult supervision when children are present in a pool or spa.
The American Red Cross and CPR Certification & Training Online both stress the importance of being CPR certified, and it's even more imperative if your customers will be spending a lot of time in the pool this summer. To learn more about the CPR certification process, click here.
Having barriers and fences around a pool is a smart idea, whether your customers have children and pets or not, and many jurisdictions require such a barrier. Experts recommend the fence or barrier be at least 4 feet high, see-through, non-climbable and have a door that is self-closing or self-latching and should swing away from the pool to keep children from being able to push it open.
Other alternatives to putting up a barrier or fence are to add mesh covers or safety nets over the top of the pool or have an automatic pool cover installed.
Alarms and drain covers
Having alarms on any doors leading to the pool area can help your customers keep tabs on who is going and coming from the area, and Pollack says it's important to make sure this sound differs from any other home alarms currently in use, so there's no confusing which alarm is which.
A step further than that is to have a pool alarm present. Pool alarms can detect wave movement, so your customers are always aware of who or what is in the pool.
As mentioned earlier, many pool-related fatalities deal with pool drains and electrocution, so ensuring your customer's pool drain is on the up-and-up is crucial.
When installing a pool or inspecting a pool installed by another company, be sure to check that the drains are anti-entrapment types and are compliant with the Virginia Graeme Baker Pool and Safety Act (VGB).
"Suction from drains can be strong enough to hold an adult underwater," Pollack told Houzz. "So, it's a nominal investment that can save a life."
Regular inspection of the pool, drains and covers is wise to ensure they aren't damaged or missing. Also recommend to customers that they talk to children about not swimming or playing near the pool drains, even if they are covered.
It's recommended to perform pool inspections at least once a year to ensure everything is running smoothly and the lights aren't posing any danger of electrical shock.