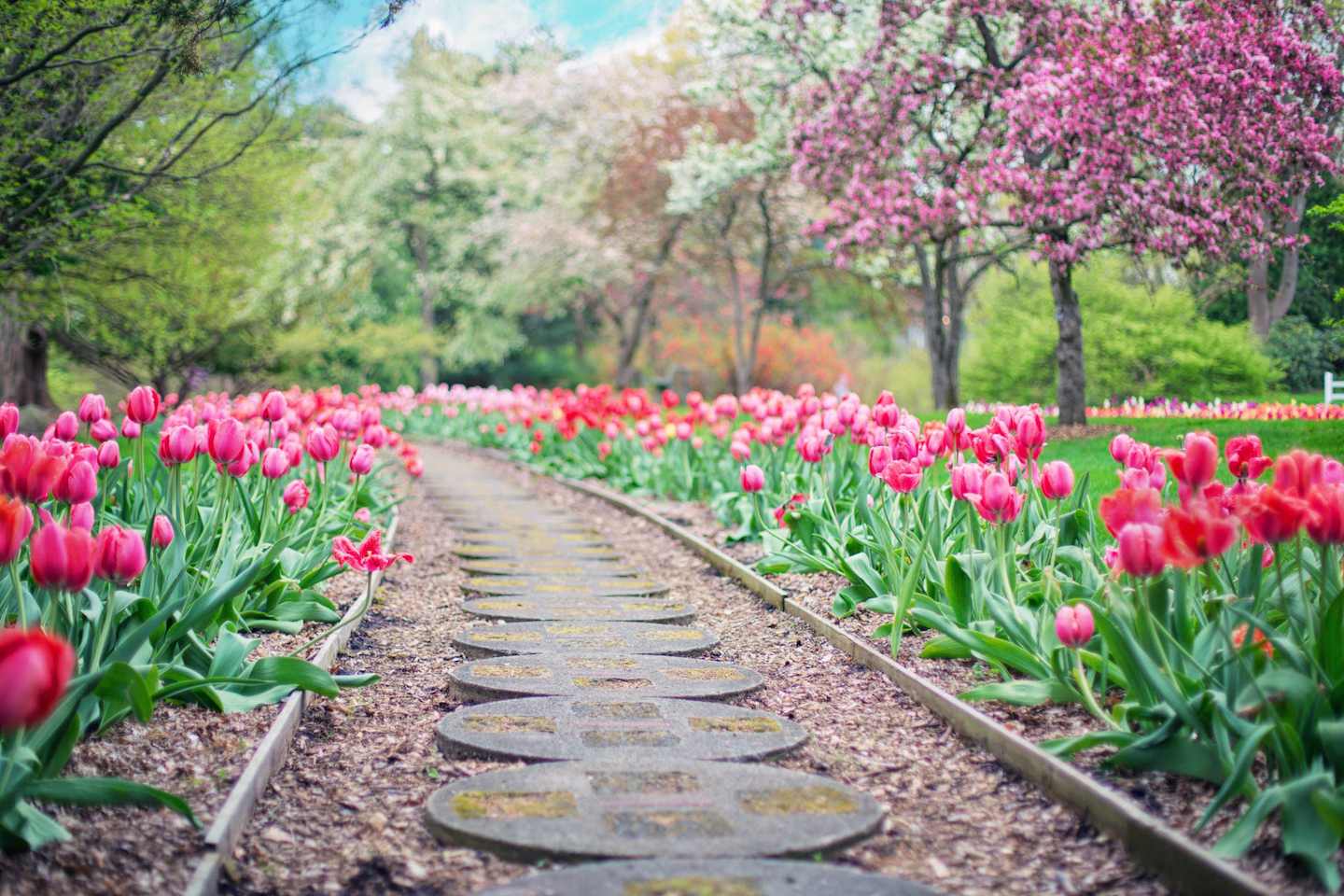 No customer is exactly the same and while some may like the wild, carefree look of a cottage garden growing as it pleases, others may desire a little more discipline in their landscape.
This is where edging comes in. Not only can it help provide crisp, clean lines to the land, but it can also keep weeds from invading and improves soil retention. Edging can also make maintenance for your crews a little easier, as they tend to reduce the amount of trimming required.
"Edging's function is simple," says Rhonda Ferree, a University of Illinois Extension horticulture educator. "It forms a clean, neat line between planting areas and turf or ground covers. When installed properly, it should blend in with the landscape, minimize hand trimming and help contain mulches within the bed areas."
For those wanting it sweet and simple, they can go the Victorian method of edging, which consists of making a narrow trench with a sharp spade that is 3 to 4 inches deep. This little cliff will slow or stop the spread of grass, but it tends to need to be touched up once or twice a year.
Materials
If your customers are looking for something a little more elegant than a hand-dug trench, there are numerous materials they can use that fit the aesthetic of their landscape. Whatever material your client wants to use, make sure it is long-lasting and strong.
Metal
Metal tends to be the longest lasting edging material, but it comes with a price and tends to be difficult to install. Steel edging is heavy and difficult to use on deeply curved beds, so it works better for areas that need side-strength, such as a driveway. Aluminum is easier to work with, but its light nature makes it easier to damage. Ferree says metal edging also can have problems with frost heave in the winter.
Wood
For a casual look, wood is a good option and it comes in a variety of widths and thicknesses. Avoid using untreated lumber, as it has a shorter lifespan and in areas with chronic moisture or termites, it will be unacceptable. Another element to watch out for is using woods like old railroad ties that can be coated in materials that are toxic to plants.
It is best used for beds with straight lines unless opting to use redwood bender boards, which are thinner sections of wood that have greater flexibility. Redwood bender board is typically thinned strips about ¼ inches thick by 4 inches tall in 12 feet lengths of rough sawn redwood that allows it to be shaped for custom edging.
"Redwood will typically be the most economical choice for bender board," says Charlie Jourdain, "It is lightweight, easy to work with and readily available in home centers, and garden centers throughout the western US. Life Cycle Assessment research also indicates that redwood is the best environmental choice. Most redwood is harvested from FSC certified forestlands."
Redwood bender board has a lifespan of 10 years, give or take, according to Jourdain.
Bricks, pavers, stones
Those looking for a classic, formal look can use brick or paving blocks. While it can be tempting to create a raised border, it is advised to install stone, brick or pavers sunk into the ground along the edge that will make it easier to trim the grass growing against the border.
Stones should be at least 3 inches thick and 4 inches wide to stop grass from encroaching. A sand or concrete base can also be used to improve durability. Using concrete curbing allows clients to have the exact shape they need to be poured, but it also results in a long-term commitment to the shape of the flower beds, that they may not be comfortable with.
Plastic
Probably the most commonly used edging material, due to its flexibility and inexpensive nature, is plastic edging.
"Of all the materials used as edging, plastic is probably the hardest to install for a lasting, stable edging material," Ferree says. "Many have probably experienced the frustration of plastic edging that simply will not stay in the ground. Experts generally agree that round-top edgings are better since they do not sink as easily as flat types."
Plastic edging tends to be easily crushed or cracked if stepped on and it tends not to be the best deterrent for grassroots, as they often are sold in 4-inch widths that cannot be sunk deep enough.
There is a multitude of other objects people have used for their edging as well, depending on your client's creativity, but be sure to assess the effectiveness of the material before agreeing to install it.
Installing
The installation process will vary depending on what type of material your customer selects, but if they choose something on the more decorative side such as brick or wood, below are the steps for creating edging that is set even with the soil.
Measure the height of the edging material and at 2 inches to this number.
Measure the width of the material and add 1 inch to this measurement so you have enough working space to place the edging. For materials with varying sizes, measure the widest one.
Dig a flat-bottomed, flat-sided trench that is 2 inches deeper and 1 inch wider than the material.
Pack the soil in the trench with a tamping tool to prevent the edging from shifting once the soil settles.
Add 2 inches of masonry sand to the trench and spread until smooth and level.
Place the edging material in the trench working from one end to the other. Leave no more than ¼ inch between edging materials. Do this regardless of material type.
Fill the gaps between the material with coarse or polymeric sand. This will help suppress weeds from growing in the material.
Spray the sand with a mist of water to settle the sand and add more sand to fill cracks near the top of the edging material.